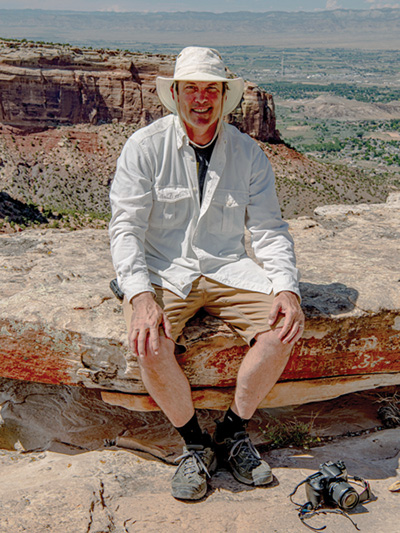 Miller Callaway

Learning geology in a classroom and laboratory is key to understanding and teaching earth systems, but experiencing geology first-hand in the field is a whole different story.

Instead of whiteboards on walls, wide-open vistas fill your eyes. Instead of typing notes on a keyboard, your hiking boots slide and skid on slick clays, and your hand reaches for a rock ledge that holds millions of years of history in its layers.

Such was how Webb School of Knoxville Middle School science teacher Miller Callaway spent part of his summer, exploring the extraordinary geological features of the Southwest United States. Callaway was one of 30 STEM educators from across the nation selected to participate in G-Camp for Teachers, a three-week field experience traversing Texas, New Mexico and Colorado.

Sponsored by Texas A&M University's College of Geosciences, G-Camp for Teachers provides earth science teachers (fifth-grade through high school senior) first-hand experience with the principles of geology in the field, helping them develop new curriculum and virtual field trips for their classrooms and

equipping teachers with ways to make learning fun and exciting out-of-doors.

This summer's itinerary began June 27 and concluded July 15. Participants mapped the Earth's geological history, visiting and studying sites such as the Capulin Volcano National Monument, White Sands National Monument and the Pg-T boundary.

Teachers kept daily journals with sketches, measurements and general observations, and

developed lesson plans each night.

Callaway said his interest in participating in G-Camp for Teachers stemmed from his love for the outdoors and a desire to rejuvenate his passion for geology.

"I had been to a geology field camp once before – 25 years ago with the University of Montana," he said.

Callaway, along with Webb Middle School English teacher Carol Hill and Upper School social studies teacher Sharon Berube, were the inaugural recipients of Webb's Robert Webb Grant of Distinction, which enables Webb faculty and staff to travel and study beyond standard professional development opportunities, and bring those valuable experiences and expertise back to their classrooms and programs at Webb School.