Edens' new vintage lumber store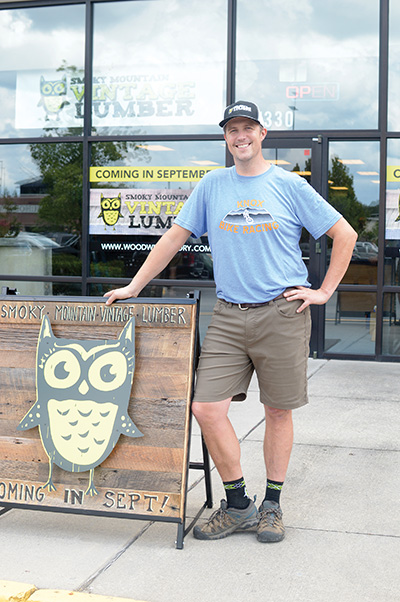 Andrew Edens, owner of Smoky Mountain Vintage Lumber, has opened a second location in Turkey Creek, offering hand-crafted, custom wood pieces in his new showroom at 11330 Parkside Drive.

Smoky Mountain Vintage Lumber opened in Turkey Creek, 11330 Parkside Drive in Turkey Creek, Sunday, Sept. 1.

"Our second location at Turkey Creek will offer Knoxville the opportunity to shop for a variety of ready-to-take-home reclaimed lumber furniture options," said Andrew Edens, owner, who titles himself the "chief nail puller."

"We currently have a place on Central Street in Knoxville," he said, noting it had been there since 2011.

Edens attributed the growth to recent popularity of reclaimed wood, a trend of shopping local, offering quality workmanship and having great employees.

Customers visiting the Turkey Creek location will find more finished products from local artisans — from tables and other furniture to sliding barn doors and thin planks of wood used for accent walls.

"And, if that table (on the showroom floor) doesn't exactly meet your exact needs, we can customize the table," Edens said.

The thin planks for walls will be offered as 10-square-foot bundles.

"So, people will have a choice of choosing from 10 different wallcovering options," he said, adding customers can get as many bundles as they want.

"It's already hand-curated for them, sanded, and we can seal it for them," Edens added. "We also make sliding barn doors here and hardware, mantles, shelves, headboards, shutters, natural-edged slabs.

"We can sell people the wood, or we can cut to size ... and deliver it to them."

Along with tables, the shop will offer tobacco baskets and hand-crafted signs.

Edens also will offer DIY classes at the Turkey Creek shop, so customers can have their own "'I built that' sense of accomplishment," he said.

"They can make their own sliding barn door, their own headboard or their own tabletops as well," Edens added. "We did that at the other shop and had great success there as well.

Edens got into the business because of his love for woodworking, which he started in 2009 "just because I had some time on my hands.

"I tore my first barn down in Bulls Gap just because I wanted wood," Edens recalled, adding he also found "some nice wood" on Craig's List.

"I started doing projects with it, really enjoyed the reclaimed elements — because not every piece is the same," he said.

At that time, a friend told him reclaimed wood products are really popular.

So, Edens started a business in Claxton. "I took down 10 more barns," he said.

Then he opened his first shop on Central Street, located in the Happy Holler Historic District near Baxter Avenue — but in 2015 relocated to another location, 1700 N. Central St.

"Over here (in Turkey Creek), it's retail storefront first and shop second," Edens said. "We're still going to be doing custom work (in Turkey Creek) and building (at the Central Street shop).

The shop's hours are from 9:30 a.m. to 8 p.m., Monday through Saturday, and from noon to 5 p.m., Sunday.

Edens has planned a Grand Opening to begin at 2 p.m., Tuesday, Sept. 10, highlighted by Knox County Mayor Glenn Jacobs planning to break a board instead of the usual ribbon cutting.

For more information, call 865-801-WOOD (9663) or e-mail to info@woodwithastory.com.