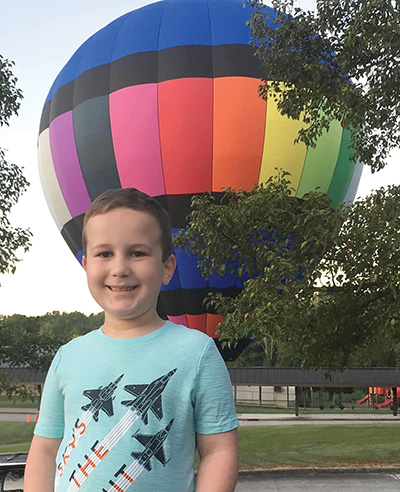 Last week, Farragut Primary School student Caiden Wilson enjoyed having his picture made with the hot air balloon that visited his school in the background.

Students, teachers and parents had quite a "good morning" greeting Thursday, Aug. 29, at Farragut Primary School, when a fully-inflated hot-air balloon met them on the campus lawn.

The balloon, owned by Don Bickers of Knoxville and nicknamed "The Flying Monkey,"

was promoting the 7th annual Monroe Life Balloon Fiesta,

which was held this past weekend at the Sequoyah Birthplace Museum in Vonore.

It was the third year in a row a hot-air balloon visited FPS to promote the Festival, according to CeCe Owens, one of the event's organizers.

"They are wonderful to work with, and the kids just love coming to school with a hot air balloon greeting them," said Owens, who noted the group annually appears on WBIR-TV Channel 10's morning show to promote the Fiesta.

As in years past, FPS principal Gina Byrd allowed each class to visit the balloon up close before it was disassembled, Owens added.

Anne Marie Wilson, whose son, Caiden Wilson, had his picture taken with the balloon in the background, said he was able "to get a little closer after the picture."

"He was excited!" she said. "He thought it was such a cool surprise."

Owens said the FPS location was chosen and coordinated

between organizers and the TV station.

Previously, there had been attempts to involve Monroe County students in the promotions, but proximity to Tellico Lake — which typically impacted the balloon's inflation — along with scheduling conflicts, kept the activities in Farragut. The Fiesta was held Saturday, Aug. 31, and Sunday, Sept. 1. and featured seven balloons, primarily from Kentucky.