held by the General Federated Women's Club Ossoli Circle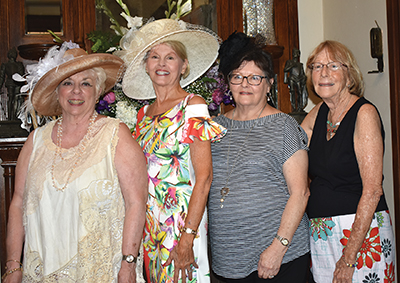 From left, Robin Goddard, Ossoli President Janie Bitner, Lorna Matheny and Frances Hensley.

Historic Westwood at 3425 Kingston Pike was the setting for the General Federated Women's Club Ossoli Circle "I Love Ossoli" Tea, held Monday, Aug. 12. Ossoli President and Farragut resident Janie Bitner presided over the event. Dozens of Ossoli members and their guests enjoyed tea, refreshments and entertainment provided by area musicians. "Each newly-elected president of Ossoli Circle selects a project for her administration," Bitner said.

"I selected Knox Heritage and Historic Westwood." Not only is Knox Heritage's headquarters located in Westwood, but it also was Bitner's sister's home for 35 years. "She married into the family who had the house since 1892, when it was built for Adelia Armstrong Lutz by her husband, John Lutz, as a wedding gift," Bitner said. Also on hand for the event was Linda Williams, who portrayed Adelia.

For more photos from this event, please see Westside Faces in our print edition.