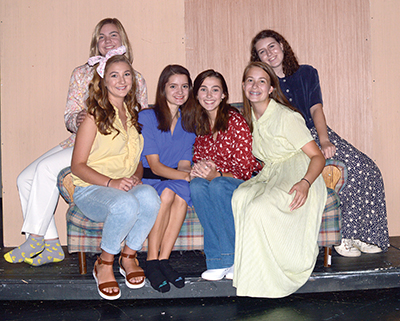 Some lead cast members of Hardin Valley Academy's upcoming production of "Steel Magnolias" pose before practice. On hand were, front row from left, Emma Kate Wrather as Truvy; Sarah Howell, M'Lynn; Alexis Padgett, Shelby; and Emma Oliver as Annelle. Back row are Makaela Webb, left, as Clairee and Maydson Banyas as Ouiser. The show will run from Thursday, Sept. 26, through Sunday, Sept. 29. There will be a special in-school showing for students Monday, Sept. 30.

Get out your tissues. Hardin Valley Academy's theater class will present "Steel Magnolias," which will begin at 7 p.m., Thursday, Sept. 26, and Saturday, Sept. 28, and 3 p.m., Sunday, Sept. 29, in HVA Auditorium.

There will not be a performance Friday, Sept. 27, because of Football Homecoming weekend. Play tickets are $7 for adults, $5 for students and are available at the door the day of the production.

There also will be a special in-school showing for students Monday, Sept. 30.

"A bunch of the classes wanted to see it," HVA theater teacher Robert Warren said, adding he invited students from psychology, history, English and art classes.

"I actually made a set of lesson plans about it, and they're going to talk about Southern life, as it has to do with history and literature," he added.

Written by Robert Harling, the play — set in Chinquapin Parish, Louisiana, in the 1980s — is a comedy-drama based on the author's experience with his sister's death.

"I had a group of kids I knew were going to work hard," Warren said. "They came all summer and learned the Louisiana accent … it was surprisingly harder than they had thought."

The production, which has two different showings consisting of different cast members — involves a total cast of 14, with most of them being female.

Senior Alexis Padgett will play Shelby in the Saturday and Monday shows, with senior Alex Miller doing so Thursday and Sunday. Meanwhile, senior Grace Finney will play M'Lynn, Shelby's mother, on Thursday and Sunday, with senior Sarah Howell taking the role Saturday and Monday.

"My mom and I have been loving this movie since I was really little, so getting to play a character that I really connect with and understand is really an incredible opportunity," Finney said.

"I'm so excited to play Shelby," Padgett said. "Shelby is a very emotional but strong-headed girl. ... Right from the beginning she knows what she wants and goes for it."

"(Shelby) is such a memorable character and has such a beautiful personality that I can really relate to," Miller said.

Other cast members include Lucy Hall and Emma Kate Wrather as Truvy; Natalie Broyles and Emmy Oliver as Annelle; Hayley Coe Madyson Banyas as Ouiser; Emma Baber Makaela Webb as Clairee; Damien Karter as Drummond; and Evan Boswell as Jackson.