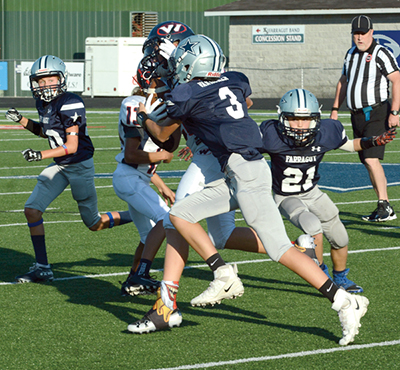 Looking to bring down a West ballcarrier is Farragut MAC junior varsity defender Dominic VanAcker (3) as teammates Robbie Jacobs (left) and Jonathan Higdon (21) look to assist. Farragut won 22-0 Thursday evening, Sept. 5, at Farragut High School's Bill Clabo Field.

The last undefeated team in the Junior Varsity Middle School Age Conference standings, Blake Kilpatrick's seventh-grade Farragut Admirals football team rolled to a fourth straight victory — and another shutout.

Big plays keyed a 22-0 home win against West at Farragut High School's Bill Clabo Field Thursday evening, Sept. 5.

"Jayden Neal threw a great pass to Grant Fields" for 59 yards, setting up Farragut at the West 12, Kilpatrick said.

Dominic VanAcker took a handoff on the next play, breaking two tackles on a 12-yard TD run in the second quarter.

Defensively, the seventh-grade Admirals had a "strong performance … pitching another shutout versus a big, physical, athletic group," Kilpatrick said.

"Overall, our defensive front was strong with each player giving us a couple of tackles each," he added. "Our defensive backs limited West's passing threat, and we came up with four turnovers."

Individually on defense, Kent Carbaugh, inside linebacker, led the way with five tackles, which included a tackle for loss, two forced fumbles (one that he recovered) "and topping it off with a pick-6 40-yard return," the Farragut coach said about a touchdown giving his team a 14-0 lead early in the fourth quarter.

Valen Estenson, inside linebacker, also recorded five tackles, including one for minus yardage.

"Sam Bobich helped secure the win with an interception and 25 yard return," Kilpatrick said.

Brady Sheppard came in at quarterback in the fourth quarter and enjoyed success. He hit Jonathan Higdon on a 32-yard corner route, which Joanthan caught inside the West 10 and took into the end zone for a 22-0 lead late.

Vincent Blum connected on a pair of 2-point conversion kicks.

These red-hot MAC JV Admirals head to Gibbs to play the Eagles (2-2) beginning at 6:30 p.m. tonight, Thursday, Aug. 12.

Farragut varsity loses

Farragut's MAC varsity fell to 5-1 after Alcoa, which zoomed into first place, came to Bill Clabo Field and blanked the Admirals' eighth-graders 18-0 Sept. 5.

The MAC varsity Tornadoes stay perfect, improving to 5-0.