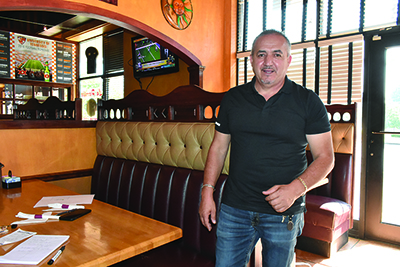 Eduardo Ayala is pictured last week in La Parrilla's, 11639 Parkside Drive, which he has co-owned and operated over the last 10 years. The restaurant will be closing Monday, Sept. 30, and Ayala will open a new restaurant, Parrilla's Cantina in Renaissance | Farragut in October.

Following a successful 10-year run in Turkey Creek with La Parrilla, Eduardo Ayala will be bringing the signature restaurant's style to Renaissance | Farragut in October.

Ayala is partnering with Martine Cobian and Victor Rosales in the new venture, Parrilla's Cantina, which will open in the location formerly housing Restaurant Linderhof.

Since he is creating an entirely new partnership, Ayala is putting a slight change to the name, he said.

"I am really exited about the new location and being able to offer a restaurant in that part of Farragut," he said.

Town of Farragut's Beer Board approved Ayala's beer permit for the new establishment Sept. 12, and he said he has filed the necessary paperwork for a liquor license, too.

La Parrilla's will continue serving customers from its 11639 Parkside Drive location until Sept. 30, when it will close. Ayala is currently overseeing renovations to the Renaissance site and said he hopes to have the doors open at Parrilla's Cantina "after the first week of October."

He said he "apologizes to any of our customers that will be affected with this decision [to move]" and "invites them to come and visit us to our new address," which is 12740 Kingston Pike, Suite 105.

While excited about remaining in Farragut, Ayala also is pleased that his rent will be considerably lower than he experienced on Parkside Drive.

"It is just too expensive to be here," he said. "The rent is high, and my lease was up, and it was going to go even higher.

"It has been nice in this location, but sometimes, it seems you are working just for the landlord."

Ayala said he thought steady traffic flow along Parkside was also affecting business.

"People don't want to waste their time in traffic, especially during lunch hours," he said.

Ayala will be offering new menu items and will be paring down some of the offerings currently available at La Parrilla's. "We are going to eliminate menu items that are similar," he said.

He also said he is excited to be providing a patio option for his patrons. "That will be nice because the patio there has shade," Ayala added.

La Parrilla's employs a dozen workers, he said, and will maintain the same staff at the new restaurant.

Ayala, who lives in Oak Ridge and is a native of Mexico, also has a hand in three other restaurants: Country Burrito in Hardin Valley; Senior Cactus in Karns, which he operates with the help of a nephew: and Don Eduardo's in Kingston.

He said he has been in East Tennessee for 20 years, and has future plans to relocate in Farragut.