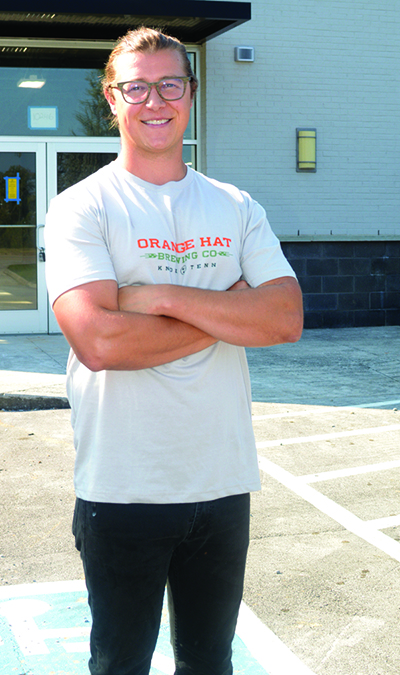 Orange Hat Brewing Company head brewer Brandon Smith prepares to serve patrons at the company's new location, 10246 Hardin Valley Road next to D1 Training.

Orange Hat Brewing Company will be making the Hardin Valley community its home by the first of the year, creating a neighborhood spot, where patrons can see the craft beers being made.

It's owners, Brian Hatmaker and Arica Ramin, are moving their venture into a 5,000-square-foot space next to D1 Training at 10246 Hardin Valley Road, across the street from Hardin Valley Storage, serving a variety of craft beers.

"We're shooting (to open) the end of the year (or) beginning of next year," said Brandon Smith, Orange Hat head brewer.

The brewery, with its "tap room model" – where the beer's made on site, and it's served where it's made – will allow patrons to see how the beer is made, said Smith, who comes from Broken Compass Brewing in Colorado. He explained the "tap room" or bar area will take up the front of the building and the brew station will be in the back. However, customers "will be able to walk in and see what's in the back.

"It's always fun for people to see where the product is made," Smith said.

Orange Hat will offer a world-class variety of higher-standard craft beers, from flagships and staples to seasonal offerings, for the holidays. "We want a wide variety, so we're planning on 15 taps, probably something either gluten-reduced and/or gluten-free — because that market's growing right now — and a couple of different (India Pale Ale) offerings," he said. "We really want to have something for everybody.

"We'll work into barrel-aged beer over time, probably do some sort of sour — like a kettle sour," Smith said. "It's popular now, but it's kind of an older style. You basically end up with something that's light, acidic and refreshing — kind of picture lemonade — it doesn't necessarily taste like lemonade but just to offer an example."

The Hardin Valley area was chosen because "the owners felt that this was an underserved area," he said. "A lot of the craft beer (establishments) in Knoxville, right now, are downtown, and it's just a further drive.

"We want to serve this community and really make it a neighborhood gathering spot," Orange Hat head brewer Brandon Smith said, adding they are shooting for a place where families can come and meet other families.

"Beer's a great fundraiser," Smith said.

For more information, visit online at orangehatbrewing.com.