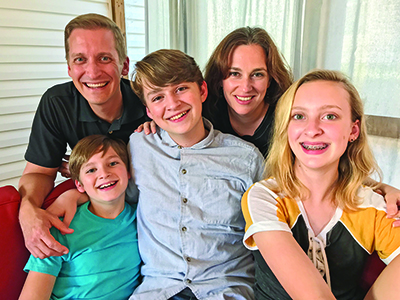 Garland and Dorothy Vance with their children, Calvin, 15, Sophie, 13 and Toby, 9

Paint Garland and Dorothy Vance Navy blue and gray when symbolizing this couple's enthusiasm for living in the Farragut area, having moved to Walnut Grove subdivision from Katy, Texas (near Houston) in July 2018.

"We knew we wanted to be in a place that had a small-town feel, but with some of the amenities of a bigger city … a great downtown," said Garland Vance, once a pastor who is now a "leadership development" businessman, about Farragut's appeal, with the couple already familiar with the Knoxville metro area as students at Carson-Newman University in the mid- to late-1990s.

"That's the reason the Knoxville area in general appealed so much to us. … A highly relational place to live," he added.

Fearing they might have aggravated their Walnut Grove neighbors due to a parking issue not long after moving there, "We thought they were going to come out and say, 'you can't park here' or 'how long are you going to be in the street?'" Garland said.

"Instead, they came out and said, 'We're so excited to have you in the neighborhood,'" he added his family among 11 new neighbors greeted. "Can we make lunch for you?"

The result was "burgers and fries and lemonade and dessert for all 11 of us," Garland said. "There's a friendliness and warmth here that has certainly exceeded our expectations."

Detailing other motivations to move here, "As we started looking at school systems … we kept coming back to the Farragut area," he said.

The couple created AdVance Leadership — with clients nationwide whose mission is "helping overwhelmed leaders who are so busy live with purpose, prudence and peace" — in Katy in 2017.

Garland had served as a "leadership development pastor" at a church in Katy for two years.

In 2018, "as the business started doing better and we began to realize we were not Texans at heart, we decided to move here to Farragut," Garland said.

Practicing what they preached, Garland said the move here also was "to get the busyness out of our lives," having been warned by a doctor in 2013 his health was being adversely affected by stress.

They ruled out Asheville, North Carolina — Garland's hometown — because "it's not an incredibly friendly city," he said. "High tourist area.

"But we knew that we wanted the Smoky Mountains" close, Garland added. "And we had some friends here as well, and spent time with them and knew how much they loved the Knoxville area."

Two Gators, though

Speaking of overwhelmed, the Vances have one "glaring weakness:" they hope a certain local college football team gets overwhelmed this Saturday in "The Swamp" in Gainesville, Florida.

Avid University of Florida sports fans, Garland, 42, admitted he and Dorothy, a native of Gainesville, are "Gators at heart."

From C-N to Rome, Georgia

Soon after Garland and Dorothy graduated C-N with Bachelor of Arts degrees in English/creative writing in 1999, they were married.

After living in Asheville for two years, the couple went to Birmingham, Alabama, where Garland earned a Master's degree at Samford University's Beson Divinity School.

The next move was to Rome, Georgia, where the couple ran a non-profit organization connected with Chick-Fil-A at Berry College for 15 years.

Garland called that task a "Christian discipleship and leadership training experience," while he earned a Doctorate of Ministry degree online at Denver Seminary (Colorado).