Her mottos include 'never give up'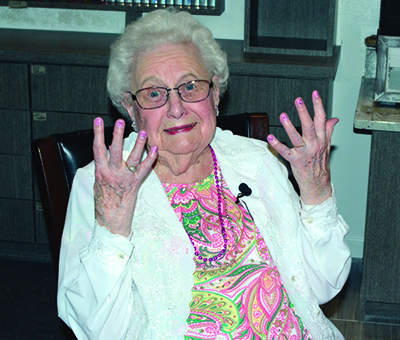 Bonnie Miller Healy, two days from turning 104, shows off her new nails after a manicure at Dynasty Nail Spa.

It's one thing to be aware of your surroundings at age 104 — it's another thing to crack jokes in jest of your sudden celebrity status.

In celebration of her 104th birthday Sunday, Sept. 15 — and surrounded by print and broadcast media thinking this feisty, vibrant senior citizen must really be celebrating her 84th birthday — Bonnie Miller Healy was treated to a manicure at Dynasty Nail Spa, 254 Morrell Road in Bearden Friday afternoon, Sept. 13.

"Am I getting paid for this?" Bonnie, a resident of River Oaks Place senior living in Lenoir City, asked while media flashed photos, rolled cameras and laughed. "… Are all these people from the same place?

"It wasn't in the paper that I was going to be here, was it?" she added to more laughter from all surrounding her.

Trying to deflect the attention, "Why don't you get the lady over there?" Bonnie said while at the same time seeming to enjoy the attention.

"I'm glad I'm not having my feet done, they would take pictures of that."

After her manicure, Bonnie gazed at her nails and said, "It looks nice," then turned her hands around for all to see the craftsmanship of Dynasty nail technician Teresa Nguyen.

For all of Bonnie's lightheartedness, perhaps she best explained her youthfulness with a simple three-word answer.

"Never give up."

About other key elements to her youth, "I've always tried to live right and do the right thing," Bonnie said. "Live moderately. I always have enough but not too much."

About advice to youth and young adults, "Try to live moderately, get along and be happy with what you have," Bonnie said. "You don't want to have too much, but not too little."

"… I try to do as much as I can for myself, I don't try to ask for a lot of help."

She later added, "Eat, drink and be merry … and try to keep a sense of humor."

As for summing up a century-plus of observations, "I've seen everything from the horse-and-buggy to outer space, and a lot in-between," she said. "I've went through a lot of wars, a flood."

Bonnie has two children, four grandchildren and four great-grandchildren.

As for mom's age, "That's what everybody guesses, that she's 84," said Pat Empie, Bonnie's daughter, who mom followed to this area "about five years ago" after the Empies moved here upon retirement.

About River Oaks Place, "It's a good place and the people are very nice and helpful," Bonnie said.

As for hobbies, "I work a lot of crossword puzzles, and I do all the activities that we have," she added. "I play bingo a lot. … And different games."

At 104, "I feel pretty good," Bonnie said. " … Everything considered, I've had a very good life.

"Good children, good grandchildren, good husband. My parents, relatives and everybody," she added.