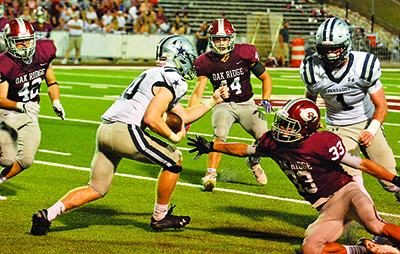 Matt White, Farragut junior running back, looks for a opening while teammate Alec Keathley (1) looks to block an Oak Ridge defender during the latest version of this annual rivalry Friday evening, Sept. 13, at famed Blankenship Field in Oak Ridge. The Wildcats (2-2) rallied from a 14-0 deficit to win 21-14.

OAK RIDGE — Surrounded by disappointed players, coaches, parents and fans, Farragut High School varsity football head coach Eddie Courtney made one thing clear:

"This one's on me," referencing a bitter 21-14 loss to rival Oak Ridge at famed Blankenship Field Friday night, Sept. 13.

Actually, that could have been taken as a personal pat on the back if judged by this game's first 22 minutes.

Admirals senior quarterback Gavin Wilkinson led his team on touchdown drives during the first two FHS possessions, with Gabe Hensley's 1-yard touchdown run and a 28-yard scoring pass reception by senior Alec Keathley putting the visitors up 14-0.

Defensively, though Farragut bent some it stood tough in turning away a Wildcats first-and-goal march to the FHS 5 — thanks to a pair a pass deflections and a fourth-down sack by Eli Purcell, junior outside linebacker.

Another Ads defensive stand, stopping Oak Ridge on downs at the FHS 33 with 3:31 left in the half, allowed Courtney's team to begin its third drive.

Farragut marched to the ORHS 29 — and then the game changed.

A costly holding penalty — penalties would plague the Ads from this point forward — nullified a Hunter Shopovick reception and first down inside the Wildcat 20.

Add a big loss following a high snap from center, and Farragut eventually turned it over to Oak Ridge at its 30 with just 50 seconds to play in the first half.

But the Wildcats used three big pass plays to land at the FHS 30 with under 10 seconds showing.

That's when Jonathan Stewart got behind the Admirals' secondary and caught a 30-yard scoring pass with just 2.9 seconds left before halftime.

What followed was an interception, on Farragut's first possession of the third quarter, setting up Oak Ridge's tying score.

Numerous false start penalties popped up continuously in the second half to help kill FHS drives.

Meanwhile, a seemingly successful Ads march inside the Oak Ridge 10 died when a fourth-and-1 run was stopped cold at the ORHS 7 on the first play of the fourth quarter.

What followed was a series of big Wildcats plays, a bad break and two costly penalties.

The Ads (1-2) had a chance to recover a Wildcats fumble inside the ORHS 5, but failed.

A 28-yard deep lob pass on third down, plus a personal foul penalty, not only got Oak Ridge out of a hole, but led to the eventual winning touchdown.

But not before an apparent third-down stop was nullified by yet another flag — a late hit.

The Wildcats (2-2) took advantage and scored the eventual game-winning points on Mitchell Gibbons' 22-yard TD pass to Tyrell Romano with 7:17 to play.

Farragut drove to the Oak Ridge 21, but a dropped pass at the ORHS 15 was costly.

Also hurt by a sack, the Ads lost possession with 5:14 left.

Penalties helped stifle two final FHS drive attempts.

"I think we just thought we had it in the bag. ... I think we underestimated them," said Keathley, also an outside lineabcker.