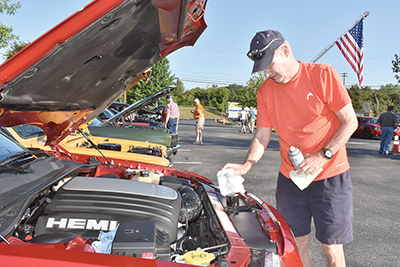 Holli Norman of Farragut gives a little polish to his 2006 Chrysler 300 Heritage Edition vehicle.

Hundreds of area residents, eager to see all makes and models of vehicles new and vintage, turned out for the Fourth Annual Farragut Lions Club Car Show, Saturday, Sept. 7, in the parking lot of First Baptist Concord.

Car Show organizer Ed Mee said more than 140 vehicles were on display from all over East Tennessee. Visitors were also treated to music from the '50s and '60s, and enjoyed discounted hot dog lunches while they enjoyed the day.

Mee said the club raised more than $5,300 in what is its largest fundraiser for the year.

He thanked all the participants and community sponsors "who are there to help us every year."

He also encouraged future participation in the Lions Club's efforts.

"If you have a burden to help in the community, the Lions Club is there, and we can certainly use your help," he said.

For more photos from this event, please see Westside Faces in our print edition.