Ads crush M-West 42-14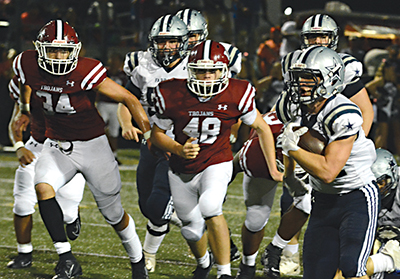 Sam Kniss, Farragut junior running back, breaks free for a huge gain against the Morristown West defense.

MORRISTOWN — A rare soft spot in Farragut's 2019 schedule allowed the Admirals to march at will against an overmatched Morristown West defense.

As for keeping the Trojans off the scoreboard for three quarters against the first-string Admirals defense, junior Trey Nesbitt stood out — swarming to the ball to produce sacks and minus-yardage hits.

"Trey had five minus-yard tackles tonight," FHS head coach Eddie Courtney said after a 42-14 win Friday night, Sept. 20, in Burke-Toney Stadium.

"They couldn't stop us the first half," Nesbitt said.

"Joe Mane has done a great job at nitro. Jackson Fontenot came up and made some hits at safety tonight," Courtney said.

"... We got to play a lot of kids tonight. We needed that."

While the Ads improve to 2-2 overall, winning their first Region 1-6A game, MWHS falls to 1-4, 0-2.

Leading 35-0 at halftime, Farragut's offense scored touchdowns on each of its first six possessions. They called it a night after junior running back Dion Williams' 26-yard scoring run made it 42-0 early in the third quarter.

That final scoring drive was led by Dawson Moore, sophomore back-up quarterback.

Williams' 11-yard scoring run put the Admirals ahead 13-0, which was set up by a 47-yard screen pass to senior Alec Keathley, who broke three tackles in route.

"Dion and Sam (Kniss) ran hard," Courtney said, with Kniss being a junior running back transfer from Concord Christian School.

"We needed that to help keep a balanced attack," the coach added.

Coming off a 21-14 loss at Oak Ridge, "We worked hard this week to fix problems in the offensive line, and we created big holes," senior center Colin Ross said. "I'm proud of all the guys around me."

"The offensive line was crazy-good today," Williams said.

A 31-yard pass from senior quarterback Gavin Wilkinson began the scoring, lobbing a near perfect strike to senior receiver Isaiah Arrington in the back corner of the end zone.

"A lot of us lost confidence the past few weeks, so I feel its good to get a win to build our confidence back up," Wilkinson said.

Gabe Hensley, senior running back, scored from nine yards out making it 20-0. "I think it's a good bounce-back win," Hensley said.

Wilkinson's option keeper went five yards for the next touchdown, increasing the lead to 27-0.

Following a safety, thanks to a high punt snap, the Admirals scored yet again on Wilkinson's 12-yard slant pass to Keathley.

"Those two losses back-to-back (also a 24-13 home loss to Knoxville West Aug. 30), they really kind of got to us, so we came in this week and worked really hard," Keathley said.

Sophomore Simeon Sharp converted three extra point kicks. Freshman Reese Keeney had one.