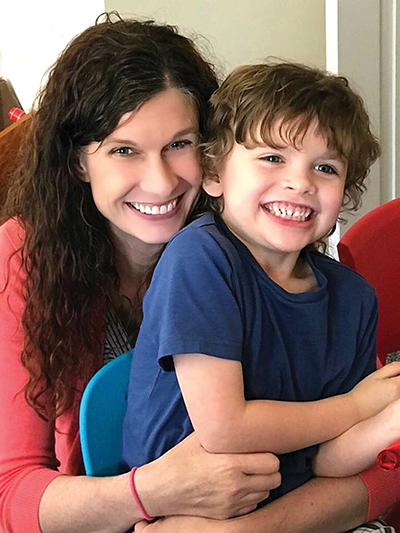 Deidra Messinger's son, Everett, was her inspiration for founding the Peer Academy, a non-profit school for children with autism and other intellectual and development disabilities, which currently operates on the Knoxville Christian School campus just off Snyder Road.

Deidra Messinger and her husband, Lindsey, tried many options as they searched for ways to reach their son, Everett, who was diagnosed on the autistic spectrum.

"We tried public school, at Cedar Bluff Integrated Preschool, as well as part-time enrollment at Knoxville Christian School with a full-time aide," Messinger said. "Both were unsuccessful learning environments for Everett.

"What he needs — what many who are diagnosed with autism or other intellectual and developmental disabilities need — is a special and dedicated learning environment just for them."

Realizing that, Messinger decided to provide it herself, not just for Everett but also for others in similar circumstances. The result has been the Peer Academy, which Messinger founded and has been operating out of spare classrooms at Knoxville Christian School just off Snyder Road.

"We at Peer believe that each student deserves the right to access the same curriculum that all other children access, with additional supports and accommodations," Messinger said. "A good day in school should mean more than minimal disruptions — our children depend on us to present the information they need to learn in a format and pace that allows each child to make positive gains in comprehension and learning."

Messinger said it was "divine intervention" that led them to KCS.

"I was copying (school) materials at Kinkos and started talking to someone who turned out to be a KCS board member. It turned out the school was thinking of branching out to offer services to kids with autism and other issues.

Former KCS president and principal Jarra Syder was instrumental in helping get the Peer Academy set up, Messinger said, adding, "She brought us in and let us mainstream some of our kids into KCS, too."

In just three years, the school has grown to include 18 students ages 5 to 15, and has a waiting list of more than 20 who are willing to pay the $1,000 monthly fees to ensure their children are getting what they need how they need it.

The school employs five teachers, including Melissa Roberts, who is a behavioral specialist.

"We see a lot of other things, along with autism, that can impact learning capabilities, such as sensory processing, for example," Roberts said. "We use small groups, and work one-on-one to help our kids, many of whom we just need to find different ways to help."

They also have expanded their student base to the point that now less than 50 percent of the pupils have autism.

"A couple of our kids might just be considered a little quirky, but they have still had trouble, either academically or among their peers, and have come to us," Messinger said. "Some kids have been bullied, or just don't have that social component they might need in a more typical environment.

"But they come here, and they are immediately being hugged, included and invited to birthday parties. And our parents love it," she added. "At the end of the day parents just want happy kids."

Even with school support, however, Peer Academy simply has outgrown the space.

"We have loved being here, especially because of the inclusion portion of our program," Messinger said. "But we are at a point now where we really need to branch out and be independent, and we need a forever home."

To that end, Peer Academy is hosting "An Evening of Hope," a gala fundraiser from 6 to 10 p.m., Friday, Oct 4, in Bridgewater Place, 205 Bridgewater Road in West Knoxville. Guest speakers will be autism specialist Dr. Jared Skowron and Haley Moss, who is the first U.S. attorney to openly have autism, Messinger said.

Tickets are $50 per person, or $35 for teachers or teachers aides, and are available through the school's Facebook page.