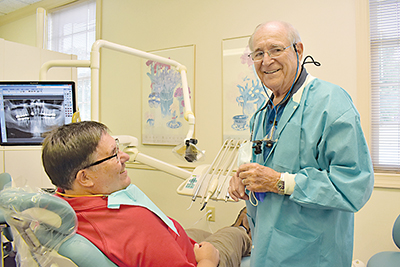 Dr. Reuben Pelot III, right, prepares to help long-time patient Christian Coulter Wednesday, Sept. 18, in his offices located in Village Green Shopping Center.

Farragut dentist Dr. Reuben Pelot III may have graduated from dental school 60 years ago this month, but he has no plans to leave the profession he loves any time soon.

Reuben, a native of Cumberland County who received his diploma Sept. 21, 1959, is instead eagerly accepting new patients at his Village Green Shopping Center offices.

It's a family business, as Reuben and his wife of 62 years and office manager, Barbara Pelot, work together Monday through Thursday at the office, where he has been serving patients since 2000, having moved his practice from the Bearden area.

The opportunity to go solo was a draw for Reuben's relocation, as was the fact Barbara is a Farragut native, and the couple attends Concord United Methodist Church, where Barbara is its longest continuous member.

"She says she's not the oldest member — and she isn't," her husband said. "But she does have the distinction of having the longest continuous membership."

"I never moved my membership letter," Barbara added.

Barbara has worked in her husband's practice since the late 1960s, even while she pursued political office.

"She was self-trained in her role, and has been very good for our practice," Reuben said. "Being a local person, she has certainly helped bring patients into our office.

"She provides good management, but her greatest asset has been in her getting to know our patients," he added.

Reuben practices general dentistry and was encouraged by his mother to pursue his career path, he said, even though his family had part-ownership in the Crab Orchard Stone Company when he was growing up.

After he received his dental license in 1959, Reuben served as a U.S. Army dentist for two years and four years in the Army Reserves, and currently is a member of Tennessee State Guard.

It is due to some minor health concerns for Barbara that Reuben is thankful they are able to be together every day. "Having her here with me is a blessing," he said.

Politically, Barbara worked more than two decades with former Knoxville City Councilwoman Jean Teague, and when term limits were enacted, decided to run herself. "I had been doing her campaigns, and I decided,' I'm going to put my name out there, too,'" recalled Barbara, who served two Knoxville City Council terms.

The devoted couple, who are long-time residents of West Hills, have four children, 14 grandchildren and just welcomed their ninth great-grandchild.

As a dentist, "It is never boring," Reuben said. "Every single patient and their needs are different to some degree. It is and has been very rewarding — I have really enjoyed doing it, and people have been very nice to me."

For more information, or to schedule an appointment, call 865-671-1544.