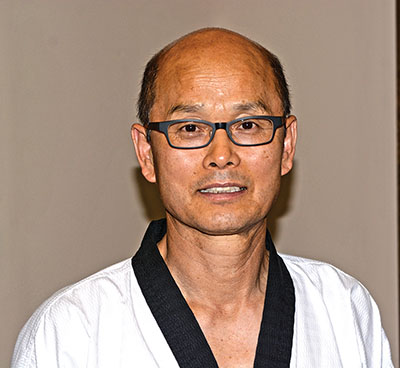 Grand Master Seong J. Eun

A former South Korean Marine and Marine Corps martial arts instructor, Grand Master Seong J. Eun is a seventh-degree Tae Kwon Do black belt and instructor for 40 years.

He has been owner/instructor at Eun's Martial Arts Center in Aspen Square since it opened July 1, 1989.

Saying he's benefited from the Farragut community being "so nice, everybody is kind,"

Eun is eager to support Town businesses.

"Relationships and friendships are very important — if it's an electrician, a mechanic, a tire store in our community — I spend time in our community when I purchase anything," he added.

"Someone may ask, 'why not purchase it cheaper online?' I like people is why.
Foundations: 40 Years of Farragut
Coming from the other side of the world in 1989 to start his Tae Kwon Do school, Eun's Martial Arts Center, now Grand Master Seong J. Eun, a seventh-degree black belt (Kukkiwon), faced many challenges. "My brother (Py Eun) was here and he invited my mom from South Korea," Eun said. "And then my mom invited me." As for starting the Center, "I started by myself, but I couldn't speak good English — almost none" he said. "… It was a very hard time. I was worried about not speaking English." However, "after three months I got more confidence," he added. "… My students helped me." Going from roughly 30 students after one year to 270 currently, Eun has produced about 600 black-belt students in 30 years. As for personal health, he has faced two back surgeries within the past 15 years (2004 and 2008). "That was very difficult," Eun said, adding the surgeries "kept me from teaching almost three weeks." Moreover, "I thought back surgery was a simple surgery. I didn't have any information about back surgery," he added. Essentially back to normal, "I still can't lift any more than 50 pounds," Eun said. However, there are nine other adult and 11 teenaged instructors to help Eun do any "heavy lifting." This weeks Foundations: 40 Years of Farragut podcast is presented by Concord Christian School and Preschool
"The prices may be a little more than online, but that's not important."

Eun, 59, also pointed to a few Town businesses "that have supported my studio, always."

He and wife, Yumee Eun, a third-degree Tae Kwon Do black belt, and son, James Eun, a fourth-degree black belt, are instructors at the Center.

Daughter, Sarah Eun, is a second-degree black belt.

Eun also served as a special trainer for the University of Tennessee Men's Swimming team.

Starting the Center

During the Center's first year, "I think I had 30 students, something like that," he said. "Now I have kids and adults, about 270 students," the senior of which is "85 years old, a lady. The youngest is 3 years old."

The Center has 10 adult and 11 teenaged instructors.

During those 30 years, "I've had 600 black-belt students," he said. "… I have a good relationship with my students."

One of his students in the early years of the Center, hair salon businessman Roy Frye, proved to be a big help.

"At that time I didn't have money, and he invited me and my wife to his house … and we spent time with his family," he said. "He was so kind."

So kind, "He gave me his wife's car, a Cadillac," Eun said.

Jason Mysinger, another student close to Eun who is now a Master Instructor at the Center as a fifth-degree black belt, "Has helped me for a long time," he said.

Within recent years, Eun pointed out Jenni Henderson and three generations of her family — husband, three children

and her father — as students and instructors.

"More than 10 years they've supported my studio and supported me," he added.

Skills, relationships

building at the Center

Wanting to help students in a comprehensive way, "Some people need confidence, some people need to build strength," he said. "Some people need self defense.

"… I don't teach kids to just kick and punch," he added. "I teach them life skills and relationships."

In addition, "Some kid may be very shy or some kid may have ADHD," Eun said, citing one example of a 5-year student "who trained under me for six years" before moving to Nashville.

"He changed learning Tae Kwon Do, learning confidence," he said. "He had trouble talking to people before.

"… I gave him special attention, and he gained confidence," Eun added.

In fact, "He's now a Tae Kwon Do instructor."

The giving goes both ways.

Saying he has no plans to retire, "I get energy from my students. … They become my sons and daughters, always," Eun said.

In fact, getting feedback from students "and especially moms, they say, '(Grand) Master Eun, your studio has good energy,'" he added.

"… Relationships are very

important."

From former students and parents of students, "I hear so many good things," he said. "… I get cards and e-mails."

The bottom line for Eun: "a friend in need is a friend indeed."