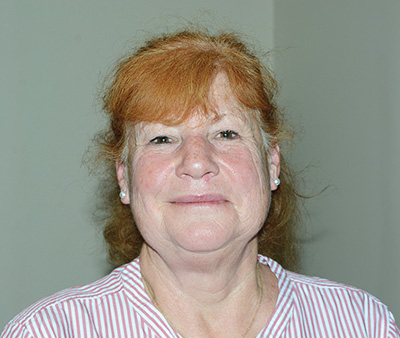 Sue Stuhl

Having to be ready to wear several hats when hired by Town of Farragut as Community Programs director in July 1991, Sue Stuhl "got to know a lot of weird things in the Town" hearing citizen problems and complaints.

"I started a volunteer program, I did a citizen request program … being sort of an ombudsman for people … and was involved in a lot of different areas wherever special projects were happening," said Stuhl, now Parks & Recreation director.

For example, "If someone had a complaint about an overgrown lawn, drainage, parks & rec, anything," she added.

When first hired, "We lived in northwest Knoxville at the time. I worked at O'Conner Senior Center, downtown (Knoxville), and heard about the (Town) job," Stuhl said. "… When I applied I didn't know a lot about the Town.
Foundations: 40 Years of Farragut
A native of Pittsburgh, Town of Farragut Parks & Recreation director Sue Stuhl "came to Tennessee to go to Maryville College (1972-1976), on a whim, honestly," she said about her first encounter with the Southeastern U.S.. "… I moved away for a while and didn't come back until about '83 or '84." Having also earned a Master's degree in Parks & Recreation, "All of a sudden there was this little town," she added. "I didn't know much about it." With only "a secretary" to assist her upon joining Town staff in July 1991 as Community Programs Director, "I was learning pretty much on my own because no one really had time" to help, Stuhl said. In 1993, Stuhl said she merged Community Programs into what was then known as Parks & Leisure Services "because we were overlapping so much anyway," and became its director. In what is now Rick Terry Jewelry & Designs (at the corner of Kingston Pike and South Campbell Station Road), "That was my first office upstairs in the corner," she said. "I was there for a couple of months. Staff started moving into the (new) Town Hall (11408 Municipal Center Drive) in September. "I think the big thing was the museum moving in there — that was a huge thing," she added. Stuhl and husband, John Stuhl, have two daughters and soon-to-be two grandchildren. They moved to Farragut about six years ago. This weeks Foundations: 40 Years of Farragut podcast is presented by Concord Christian School
"It was a new position, a new department of one."

One out-of-the-blue task she had to lead with a "small staff" was conducting "a special census," said Stuhl, who now has nine full-time employees under her direction, including all tourism and public relations.

"I can tell you I knew nothing about any of that. But through MTAS and through talking to the local development office we learned how to do a census.

"There were places in Farragut I didn't even know existed," she added. "… I had an intern helping me."

Town growth

"My biggest thing would be to keep working on the greenway links," Stuhl said about growth. "We have four main greenways (about 11 miles) and a bunch of links (roughly 7 or 8 miles). … We have some links that don't go anywhere."

As for citizen feedback, "They want more sidewalks and more greenways," Stuhl said.

"One of the criticisms I hear from time to time is 'why do you have all these links around where they don't go anywhere?'" she added. "Well, they will, it's just a matter of development or time or money."

When all the links are chained together into one continuous greenway, "I think it's going to be what truly sets Farragut apart," Stuhl said.

"… It's really important to our future to keep that pedestrian and bicycle corridor going. We've done all the easy ones, now we're into where it's a little bit harder; harder in that it takes more money or we're crossing some geographical issues (such as) bridges or streams or things like that."

Moreover, "Knox County is also working on a greenway plans … and they have plans to sort of connect with some of ours in the southwest corridor," Stuhl said. "Once Concord Road is done, which I know is going to take a while, there'll be a greenway there that will take you to Northshore (Drive), and you'll be able to go right to The Cove (at Concord Park).

"But eventually you're going to be able to go left over that bridge and get to the other part of Concord Park and hopefully keep going," she added.

Community Center

"I think the Community Center is the next big thing (Jamestowne Boulevard)," Stuhl said. "To say we're excited about that is a huge understatement. To say we're nervous about it is a huge understatement."

Too expensive for the Town to acquire as just a community center due to the "really big" size of this former two-story home of Faith Lutheran Church, partnering with Knox County and moving its West Knox County Senior Center from the current Frank R. Strang Senior Center made the deal work.

"We had looked at that (former) church several times as a community center, but we couldn't make the numbers to work," she added. "… For us to be able to do it in the way that we're doing it, where we're sharing it and having them downstairs and (the Town) upstairs, made it a realistic possibility for both of us."

Future sports complex?

As for building a sports complex, such as a cluster of baseball, softball or soccer fields, to possibly draw area or regional tournaments as Town revenue, Stuhl said such sports "are either declining a little bit, both youth and adult sports, or they're holding steady. … That's not necessarily going to be the next future wave.

"If you want to know what's really big, it's e-sports, electronic sports," she added. "It's gaming; it's a huge thing and we're going to be looking at that for the community center.

"And we definitely need a dog park, it is what people want. It's big with millennials, but it's big with everyone."

However, "With the tennis courts that are in the current plan that we're working on (at McFee Park), that's definitely going to open up for pickleball," Stuhl said. "Those four courts will allow for eight pickleball courts. … We expect pickleball will be the overriding use there."

Whatever the town builds recreation-wise in the future, "It has to be multi-purpose," Stuhl said. "There's not enough funds any more, and honestly not enough land to build a single-purpose athletic field."

Stuhl also said the Town probably will "dial it back just a little bit" expansion-wise, needing to focus on "keeping the level" of what the Town has in good maintenance.

"The Public Works Department does a great job with maintenance," she added.