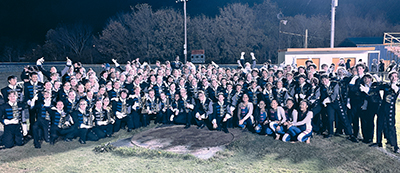 Farragut High School Marching Admirals band took home the grand championship and other awards when it competed in the 35th Annual Appalachian Classic Band Festival at Sullivan Central High School Saturday, Oct. 26.

Farragut High School Marching Admirals band sailed away with wins after bringing home the grand champion trophy and other awards from the 35th Annual Appalachian Classic Band Festival at Sullivan Central High School in Blountville, close to Kingsport, Saturday, Oct. 26.

"We basically won (first place in almost) everything: visual, general effect, marching, percussion, drum major, full band, color guard, field conductors and then grand champion for the whole day (against the 22 bands participating) as well," FHS band director Kenneth Carrico said.

However, he noted FHS placed second in music, with the first-place win going to Johnson City Science Hill High School.

"I'm very proud of the students," Carrico said. "I teach them, I work with them, I help them out, but I can't do what they actually do on the field.

"You, know, they're the ones doing all the work, the effort forth, and I'm very proud of their efforts throughout the entire semester and, of course, what they did on Saturday," he added. "They performed a great show on Saturday. It was a lot of fun."

Twenty-two bands competed, with Science Hill and FHS competing in Class AAAAA.

"That competition was kind of special for me because the band that I taught for seven years in Kingsport was actually there as well," Carrico said. "It's a very special group to me, and actually, Farragut and Sullivan South, the group I taught, stood side by side at awards, which was kind of fun to see."

The Appalachian Classic competition came after changing competitions the past two weekends. "The weekend before, we were supposed to go to Western Carolina University," Carrico said. "We had to change that to Science Hill (Oct. 19) because (the Western Carolina University competition) got rained out.

At Science Hill's competition, the Marching Admirals competed against 22 bands as well, placing fourth overall, he said.

The band also competed at Karns High School Sept. 28, where it placed third overall, and Hardin Valley Academy Sept. 5, where it won its class.

Carrico also credited the band's show, "We Are," for the wins.

"We really created that show to bring the whole Farragut community together," he said.

"I think the audience at the football games really enjoyed the show," Carrico added, also noting Farragut Mayor Ron Williams and Vice Mayor Louise Povlin plus FHS students, including football players, and school administration staff did voice-overs.