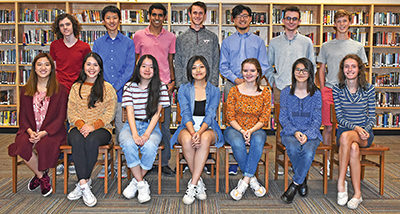 Farragut High School National Merit Semifinalists, seated from left, are Yune Kim, Alia Smith, Ashley Dai, Alice Zhang, Amja Cordell, Katherine Chen and Ariane Burt. Standing from left are Luke Kronzer, Forest Chen, Aditya Bal, Ben Darden, Kevin Wang, Caden Farley and Josh Ebbert.

National Merit Scholarship Corporation announced National Merit Semifinalists, which included 14 seniors at Farragut High School in addition to one at Hardin Valley Academy (not pictured). They were among 16,000 top-scoring students nationwide on the 2018 Preliminary SAT/National Merit Scholarship Qualifying Test. Semifinalists are eligible to continue in the competition for some 7,600 Merit Scholarship awards, worth more than $31 million, to be offered next spring,

More than 90 percent of this year's Semifinalists are expected to attain Finalist standing, and about half of the Finalists will win a National Merit Scholarship, earning the Merit Scholar title.