Surviving Jefferson County's 500-plus yards of offense, Ads face rematch in playoffs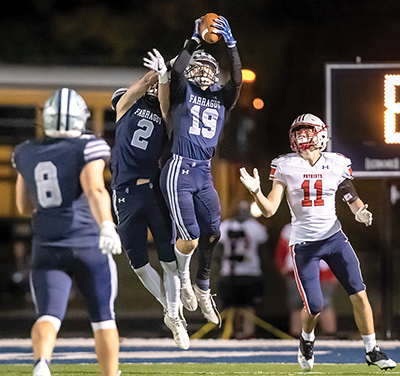 Logan Foody (19), FHS junior defensive back, grabs the game-ending interception alongside teammate Camden Kuhn (2), also a junior, as the Admirals hung on for a 39-34 Region 1-6A win to earn a No. 2 seed, and a home game, in this week's opening round of the Class 6A playoffs.

Farragut High School needed a win Friday night, Nov. 1, to assure itself a spot in the TSSAA Class 6A playoffs.

And the Admirals got it.

But it wasn't easy.

Giving up more than 500 total yards to a Jefferson County team winning just three games (3-7, 1-6), it took an interception by junior defensive back Logan Foody on the final play for FHS to secure a 39-34 Region 1-6A win on a chilly night at FHS's Bill Clabo Field.

"I probably stole the interception from Camden (Kuhn), but that really doesn't matter right now," Foody said. "We won the game and we beat a football team that the coaches said was going to come in here and play for pride.

"We're going to the playoffs."

Farragut (5-5, 4-2) trailed 34-33 with under a minute to play in the game before senior Alec Keathley scored the game-winning touchdown on a 10-yard run with 42.8 seconds remaining.

"I like the way we responded, especially after last week," Admirals skipper Eddie Courtney said.

Patriots senior quarterback Tanner Atkins finished with 298 rushing yards on 35 carries and five touchdowns.

"Their quarterback is great and we knew that he was almost their whole offense, and we knew that he was going to be the one who was going to try and beat us," Foody said.

Next up is a home playoff game against Bradley Central (7-3), Region 2-6A No. 3 seed. Opening kickoff is 7 p.m., Friday, Nov. 8, in a rematch of the season opener when Farragut, Region 1-6A No. 2 seed, rallied for a 37-30 victory in Cleveland Aug. 23.

FHS 39 Jefferson County 34

Early it appeared the Ads might cruise, as they took a 6-0 lead on a 41-yard TD scamper by Eli Purcell with 1:51 remaining in the first quarter.

FHS would extend its lead to 13-0 when senior quarterback Gavin Wilkinson threw a 36-yard scoring strike to junior Matt White early in the second stanza.

Keathley answered Atkins' first touchdown run when he took a direct snap in the wildcat formation and went 5 yards to the end zone. Simeon Sharp's second extra point conversion made it 20-8.

Atkins closed out the scoring in the first half with a 39-yard TD scamper with 1:11 left, then added a 2-point pass to make it 20-16 by halftime.

Falling behind 22-20, the Ads answered when Wilkinson, who went 14-for-21 with 257 yards, three touchdowns and an interception, connected with Mason Collins on a 65-yard scoring pass.

With FHS down 28-27, Wilkinson threw a 13-yard TD strike to Keathley for a 33-28 Ads lead early in the fourth quarter.