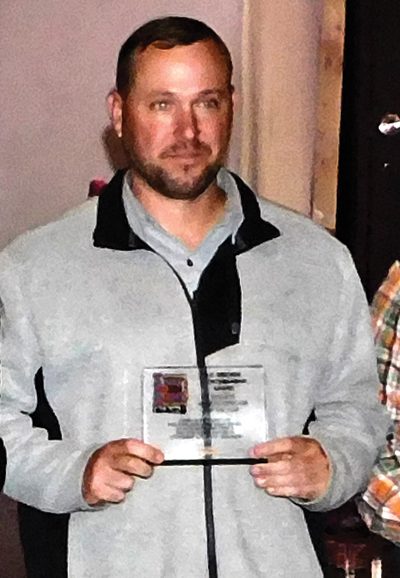 Matt Buckner, FHS varsity baseball head coach, holds his A.F. Bridges Region 2 Boys Coach of the Year award at HVA Monday, Nov. 4.

HARDIN VALLEY — Matt Buckner is one of the winningest coaches in the history of Knox County athletics.

Buckner, Farragut High School's baseball head coach, has won more than 550 games at two schools, appeared in nine Class AAA State Tournaments and won four state championships (2010, 2011, 2014 and last season, 2019).

On Monday, Nov. 4, he picked up another honor for him and his program.

Buckner was named A.F. Bridges District 2 Male Coach of the Year by the Tennessee Secondary Schools Athletic Association for the 2018-19 school year. The award recognizes coaches and programs for their sportsmanship.

While Buckner, who began his high school coaching career as an assistant under state coaching legend Tommy Pharr at Farragut, was honored to receive the award — but said he's not one to be self-congratulatory.

"I'm not big on winning stuff like this for myself," said Buckner, who took over the FHS program when Pharr left for Christian Academy of Knoxville after the 2009 season. "It's cool and it's an honor, but it's an honor for our program.

"But I don't want to sound ungrateful about the award because it is an honor," he added.

Buckner, who played for Pharr at Monterey High School in Middle Tennessee, was Bearden High School's head coach for six seasons before returning to the Admirals in 2010.

At Bearden, Buckner guided the Bulldogs to the Class AAA State Tournament in 2008. He has led the Admirals to eight Class AAA state tourneys.

Buckner said he is proud the FHS program has been recognized for its sportsmanship.

"We work a lot with our guys on that," he said. "We try to do things the right way."

Buckner was one of four A.F. Bridges Award winners with Farragut or West Knox County ties to be honored at this TSSAA Board of Controls meeting at Hardin Valley Academy.

HVA first-year principal Rob Speas was named Region 2 Principal of the Year for his work at Fulton High School last school year.

Michael Reynolds, former FHS and Knoxville Central High principal, was recognized by TSSAA for his contributions to education and athletics. He retired after the 2018-19 school year.

Sarah Bailey, former Knoxville Catholic softball coach and assistant athletic director now at Alcoa, was named Region 2 Female Coach of the Year.