With 3 in final top 9, CAK boys golf nabs Division II-A state crown with 25-stroke win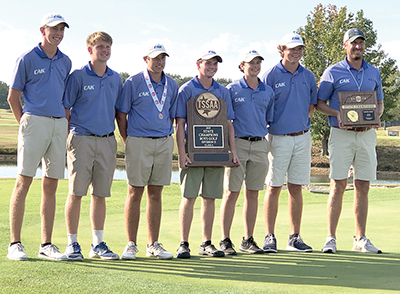 Consistency at the top proved to be huge for the Christian Academy of Knoxville boys golf team, winning the 2019 Division II-A state championship, a 36-hole two-day event earlier this fall, at WillowBrook Golf Club in Manchester. With its top four players finishing the course at 8-over par 584, that was good enough for a 25-stroke victory versus runner-up Trinity Christian (609, 33-over). Jackson Hughey, far left, finished seventh at 3-over (147). Teammate Aaron Frazier, holding state title trophy in middle, was right behind in eighth-place at 4-over (148), followed by Warrior John Meadows, second from right, who tied for nine-place at 6-over (150).

Benjamin Johnston, second from left, finished tied for 17th at 12-over (156). Also joining head coach Hank Fennell, far right, are team members Kaleb Wilson, third from left, and Eli Hinton, third from right.