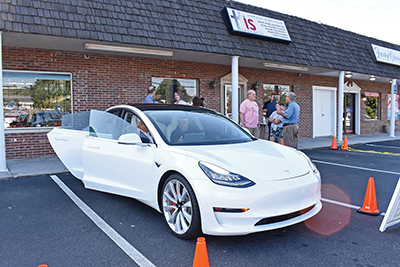 At His Security, it was all about technology Thursday, Oct. 11, when it hosted electric vehicles at its Farragut headquarters, and also offered information about Smart Home Technology, which is among the company's many offerings.

His Security in Farragut offered up a very special Tech Thursday Oct. 11, featuring an up-close view of electric-powered vehicles, solar home possibilities and Smart Home options.

A Tesla 3, a Nissan Leaf and a hybrid Mercedes were the main draws for guests, who were allowed to not only see the vehicles in action but could ride, and sometimes drive them, too.

Robert Finn brought his Tesla 3, and took guests for test drives, including Scott Brockamp, co-owner of His Security.

"He wouldn't let anyone else drive it, but he let you ride in it," Brockamp said. "I was really impressed. My background is as an auto mechanic, and I really like old muscle cars, so I went into it with a little bit of a negative connotation.

"But the acceleration was really impressive and so was the layout and design. It was very sleek. And it would go fast — (Finn) would really light it up for you if you asked."

"But it was really interesting to see inside," Brockamp continued. "We are used to instrument panels, but it had a (navigation) screen, more like a tablet."

Tom Sharp of ViaMedia also was also an enthusiastic passenger.

"It was amazing," Sharp said. "It was just so powerful. When he pulled out of the parking lot, it was just 'whoosh,' and you were back in the seat."

It also had an unexpected feature.

"We were going down Kingston Pike, and all of a sudden, he took his hands off the steering wheel, and it was driverless. It could see the traffic lights, it stayed in the middle of the road — it drove itself."

Finn has owned a total of two of the prestigious cars, and for his part said he "would never own anything other than a Tesla."

East Tennessee Clean Fuels, a partnering agency with His Security, brought the other two vehicles to the event, and shared information about electric vehicle technology and sustainability, which it promotes.

Another partner, Solar Alliance, also had a presence, as it works with His Security on providing solar power options for homes and businesses, along with home-based electric vehicle chargers.

"For us, these emerging technologies are about sustainability and stewardship for regular people because the prices have gone down, the technology has improved and it is making more financial sense for middle class folks to consider them," explained Christine Dean, of His Security, who organized the event.

For more information, visit www.hissecurity.com or call 865-474-9495.