Special 'Place' for vets at independent living center in Farragut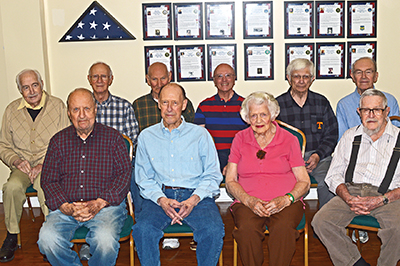 Park Place of West Knoxville in Farragut has installed a Wall of Honor for its veterans. Among them are, front row from left, Gordon R. "Russ" Clapp, Steve Lane, Olga Kelso and Henry Felts. Back row are Charles Werre, Rex Bailey, William Roy, Jim O'Brien, Jack Easterday and Bob Williford.

Park Place of West Knoxville lifestyle director Rebecca Phillips and volunteer Bill McManus had like minds in looking for a way to honor its veterans.

Now, Park Place of West Knoxville pays tribute with a recently erected Wall of Honor with framed stories and photos lining one of the walls of its downstairs Activity Room.

"Since I came to work here, I always had this vision," Phillips said. "I had worked at other independent living communities, and they always had 'The Wall.'

"I kind of knew what I wanted, but I didn't know how I was going to go about getting everything I needed from the residents and formatting it."

A year-and-a-half later, she met McManus, whose mother-in-law is a resident at Park Place and also had an interest in veterans.

"Then I knew (the wall) was possible," Phillips said.

McManus said he grew up with family members in World War II and Korean War and had friends with whom he grew up and lost during the war in Vietnam. He also had a brother and son in the military.

"I walked in to her one day and asked, "Have you ever thought about doing something for the veterans … like creating a book, an album, for them?'" he said. "That's when she told me about her idea.

"I said, 'that even sounds better because it's much more visible rather than something just sitting on a table.'

"So we got together and identified the veterans," McManus added. "We drafted a questionnaire we wanted to use with them to get their thoughts going."

While some veterans fully filled out the questionnaire, others were interviewed, he said.

And, he noted, there were some individuals who could not recall their military experiences and there were no military records.

"But, we did as much as we could for all of them," McManus noted. "I think the challenge, on all of them, is how to limit it. They had such great stories, accomplishments, awards and medals."

Completing the wall "was such a good feeling and rewarding, especially the ones I sat down and talked to and heard their story," he said, adding he had made friends with the veterans through those interviews.

McManus, who came out of the high-tech world, spent the last few years of semi-retirement working in special education in public schools.

"I'm proud of what we both did, and to see the veterans and their families come in here to look at it, take a picture, it's just rewarding to me," said Phillips, who came to Park Place almost three years ago. "Some of the family members got involved because they had the pictures of their dads or were able to fill out the simple form for them.

"I wanted them all to be on the wall," she said.

The wall honors:

• R. Henry Felts, sergeant first class of U.S. Army during World War II and Korean War;

• Olga Kelso, chief yeoman, U.S. Navy from 1943 to 1963, when she served as a yeoman in administration and recruiting in Washington, D.C., and England during World War II and the Korean War;

• Joseph Lowell Kirk, airman second class, U.S. Air Force, from 1961 to 1964, when he served in aircraft armament systems maintaining radar-controlled 20-mm. cannon systems of B47 bombers. During the Cuban Missile Crisis, his duty was to prepare 57 B47 bombers for immediate nuclear attack on the Soviet Union;

• William Pat Ledbetter, chief warrant office in U.S. Army, serving with 2nd Infantry Division, 38th Infantry Regiment, D Company and a chief technician in the Army's "amphibious unit" during the Korean War;

• Jim O'Brien, second lieutenant to colonel in U.S. Air Force, from 1967 to 1994, having served during the Vietnam War, Operation Desert Shield, Operation Desert Storm and the Balkan War (See story and more photos in Veterans special section, 1B-2B);

• William G. Roy, senior airman with U.S. Air Force from 1951 to 1955, when he was stationed in France as a driver;

• Charles Henderson Werre, seaman in U.S. Coast Guard from 1952 to 1954, serving as a lifeboatman trained in rescue procedures stationed at Coos Bay Lifeboat Station in Charleston, Oregon, and Lifeboat Station in Seattle, Washington;

• Robert M. Williford, first lieutenant in U.S. Army from 1959 to 1967, serving as a unit commander in combat engineering for three years stationed at Fort Benning, Georgia;

• Rex Bailey, petty officer second class in U.S. Navy during the Korean War, from 1951 t o 1954;

• George R. Clapp, captain in U.S. Air Force, from 1958 to 1970, serving as a supply officer in Texas;

• Chuck Clark, first lieutenant in U.S. Army from 1955 to 1957, serving as an infantry heavy machine gun platoon leader at Fort Benning, Georgia. At Fort Jackson, South Carolina, he was engaged in recruit basic training;

• Herbert Dodge, captain of U.S. Navy from 1955 to 1986, having served as a Naval flight surgeon in the Philippines, Japan, Vietnam and various other U.S. bases;

• Jack Easterday, staff sergeant in U.S. Army from 1955 to 1963, serving as a heavy weapons specialist in Germany while the country was being rebuilt after World War II;

• James Sloane Patterson III, first lieutenant in U.S. Army from 1954 to 1956; and ...

• Steve Lane, no information available.