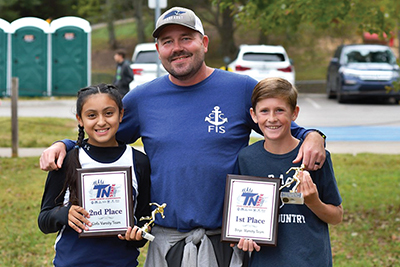 Farragut Intermediate School cross-country runners Marely Ortega, left, and Andrew Cabaniss, earned first-place in the mile run at the state competition Saturday, Oct. 19.

Two Farragut Intermediate school fifth-graders are among the fastest runners in the state and have their sights set on national titles.

Marely Ortega and Andrew Cabaniss won their individual one-mile races Oct 19, running as part of the FIS cross country team in the Knoxville Youth Athletics program, besting students from across Tennessee. Andrew's time was 5:19 while Marely was close behind at 5:36.

While Andrew and Marely leading the way, their teammates also did well, as the FIS varsity boys team won the state championship while the school's varsity girls place second overall.

"It feels great," Marely said about her and the team's success.

Andrew was more understated.

"It feels OK," he said, smiling, then added he "won every race but one this season."

Marely, too, has had similar success, placing third and fifth in her first two races this year before leaving her competitors behind in her last four races.

The extraordinary runners received high praise from FIS cross-country coach Marshall Anderson.

"They are not only the fastest kids in the state, but from what I can tell — from the data that's out there — they are the fastest in the nation at the elementary school level," Anderson said. "They are pretty dang amazing. I don't know what's in the water in Farragut, but there is something special going on here.

"Both of them are just fantastic kids," he added. "They are both highly competitive — they don't like to lose, but they are also very humble and are great teammates. I made them both captains this year, and they have helped me out by being great leaders."

Both Andrew and Marely point to siblings who led the way into the sport. Andrew's older brother, William, now an eighth-grade cross-country runner at Farragut Middle School, began running in Cumberland County, where the family previously lived.

That school's rules encouraged younger siblings to participate, too, and Andrew said his main goal "was beating William," a feat he accomplished as a second-grader.

"William has been nothing but gracious" about his brother's successes, said their mother, Jillina Cabaniss. "He and his friends are always front and center, cheering him on."

Marely said her older brother is a runner competing for the Hardin Valley Academy cross country team, but she has yet to beat him, said their mother, Maria Cantu.

"Maybe one day," she added.

Both Andrew and Marely also are multi-sport athletes: Marely plays soccer, while Andrew swims and plays both basketball and football.

The national championships will be held Saturday, Dec. 7, at Victor Ashe Park in Knoxville.

Anderson said he is helping coach close to 50 Farragut elementary and middle school runners to prepare for the competition.