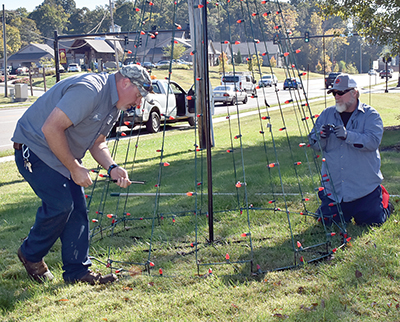 Town of Farragut Public Works employees J.R. Newman, left, and Dale Owens were putting up lights in Founder's Park at Campbell Station Wednesday, Oct. 23, in preparation for the Monday, Nov. 25 Countdown to Light the Park, which this year is being held a week early on the Monday before Thanksgiving.

Jeff Williams, Town of Farragut's Parks supervisor, and his crew have been working since the first week of October to ready more than 60,000 thousand twinkling, multi-colored Christmas lights that will illuminate Founders Park at Campbell Station a bit sooner than normal.

Annual Countdown to Light the Park festivities, moved up before Thanksgiving this season, begins at 5 p.m., Monday, Nov. 25.

"We had a lot of people telling us they were having family in that week, for Thanksgiving, and would like to have the lights on already, so they could share them," Williams said.

"This our first year trying it, so it is a trial, just to see how it goes."

Trees, other features

The expansive park, which also houses the Farragut branch of Knox County Library, houses the Town's main and most prominent holiday lighting display, with dozens of lighted Christmas trees, "falling" icicle lighting and a centerpiece 63.5-foot tree in the middle of the park.

"It all started with 15 trees, but now we have over 75 artificial trees, and nine or 10 real ones. said Williams, noting the Town's prominent holiday display has been ongoing for more than a decade.

"All the trees we use, we make ourselves," he added.

"And every year, we add something," which this year will be lighted archways, along with lights adorning the recently constructed Park stage.

It is also home to a giant mailbox, where children may send their letters to Santa.

Event rundown

A full slate of holiday entertainment for Countdown to Light the Park will be provided by Farragut High School Madrigal Singers, Concord Brass Quintet, soloists from Angela Floyd's Schools and Akima Club Singers.

Other treats will include coffee and hot chocolate, courtesy of First Watch Café, and fresh-baked cookies from area businesses.

Additionally, "Mrs. Claus" and elves will help children post their letters to Santa.

Parking will be available across from the Park at Westgate Christian Fellowship Church, and Knox County Sheriff's Office deputies will be on hand to direct traffic, and assist those crossing Campbell Station Road.

The evening's most anticipated moment will be around 6:30 p.m. when Farragut Mayor Ron Williams and other Town officials welcome Santa Claus to help "light the switch," turning on the display, which will be lit daily through Wednesday, Jan. 1.

Additionally, the Town welcomes carolers to perform nightly during Light the Park and are encouraged to sing from the new stage, stationary among the trees, or while strolling through the park.

For more information or to sign up, contact Brittany Spencer, special event and program coordinator by calling 865-218-3378 or e-mailing bspencer@townoffarrgut.org.

"It takes us about two months to put everything up," Williams said.