From its origins in 1946, Farragut Cleaners now a true Sharp-owned biz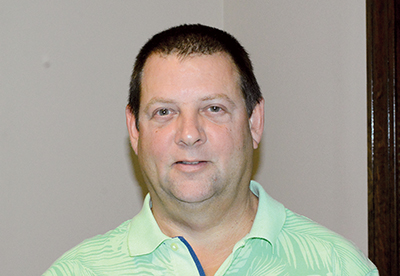 David Sharp

Like father, like son, like sister, like wife.

And don't forget mom.

"When you've got a chance to do something on your own, you want to run your own thing and be the boss," David Sharp said about co-owning Farragut Cleaners, with sister, Dustin White, since 2004.

A true family-owned business now with five locations and 16 employees, Sharp learned the business from his father, U.S. Navy veteran Don Sharp, a Farragut Cleaners employee in the 1980s before buying the business from Wayne Murphy in 1990.

While the history of Farragut Cleaners goes back its opening in 1946 at its current Farragut location, at the corner of West End Avenue and Kingston Pike, Don's employees also included his wife and David's mother, Dottie Sharp, and David's wife, Karen Sharp, "who probably started a month or two after I did" in 1990, David said.
Foundations: 40 Years of Farragut
A former Farragut High School track & field and cross-country runner his sophomore year (1979-80 school year), Farragut Cleaners co-owner David Sharp said the high school back then was tagged "Farragut Farmers" due to its rural location, a phrase used throughout Knox County. "Especially Bearden," he added. But Sharp's athletic career at FHS was cut short following his sophomore year. "The next year I got a job and a car and didn't have time for sports," he added. "My first job was with a little cleaning company that used to come into the schools after school and clean. Sweep up, take out the trash, stuff like that. "I did that for a year or two then I went to Kmart (for eight years)." About his first taste of the dry cleaning business, "When I went to work there we had just had the one location," David added about Farragut Cleaners. Other locations today are along Cedar Bluff Road in West Knox County; South Peters Road in Bearden, along Hardin Valley Road next to Food City and in Lenoir City. This weeks Foundations: 40 Years of Farragut podcast is presented by Concord Christian School
"I don't know how long (Murphy) owned the business; my mom went to work for Wayne Murphy … and then my dad went to work for him, and he became the store manager,"

he added. "(Don) ran the business."

Saying his father "jumped at the chance" to own the business in 1990, David finished up eight years of working at Kmart in Farragut and came on board that year and "worked there quite a while before he offered to sell it to me and my sister. … My sister (also) was working there before me."

Now, "He still works part-time for me. And my mom does, too," David said about his parents. "When we're short-handed, they step right in."



Early years

In the business' early years in Farragut, "It was just a small portion (of what it is now)," David said. "They're used to be a store next door that was Russell's store, a little grocery store.

"I remember Russell's store being there when I was in

school, when Farragut schools were just right across the road from us," David, a 1982 graduate of Farragut High School, added about the old schools near the corner of Concord Road and Kingston Pike. "The main entrance to the high school

(now named Lendon Welch Way), there wasn't even a red-light there. When you go to leave school, you come out and make a left turn … you had to figure it out."

About West End Avenue, "When I was in school it wasn't there," he said.

With the family moving to what is now Farragut in 1971, "There was nothing out here," David said. "It was country.

"There was a grocery store, the A & P, and that was it," he added. "… Used to be a White Stores there where the Fresh Market is now (now Village Green shopping center). … There was a little store next to it called Whiteway, kind of like a 5-&-dime-type of store."

As for current Town growth, "I was looking in the Farragut paper (that morning), they've got the Real Estate ads, and I'm looking at all these neighborhoods and I have no clue where they're at. I'd never heard of them," David said. "But they're here."



Town-business

As for getting along with Town of Farragut officials, "We've never had any trouble with them," David said.

In fact, he recalled how the Town's Public Works department helped during an adverse time. "Some of the guys, when we had the heavy rains and the creek floods and stuff like that, we've had the guys come through there and see what's going on, trying to block the road off.

"It went well. They were willing to help us out."

One consideration about the business' original site: "if it burned down I don't guess we could rebuild. It's in a flood plain," David said about being grandfathered in with the current building.



Traffic issues

With the enormous growth of Farragut in the past 40 years, David said traffic backups at traffic lights often happen in front of his business.

"I did read something about where (the Town) was going to do something with the red-lights, where they could control them," he said. "Maybe somebody at some central control could control the lights and clear the back-ups. If it's backed way up, just keep the green on long enough to clear that out.

"I see it from Campbell Station all the way back past Sam & Andy's," David added. "It'll be backed up and the light turns green and there's nowhere to go."

He did have an opinion concerning the Town business growth.

"I think there's too many empty buildings sitting around," David said. "We keep building new ones and we've got empty ones sitting around.

"We need to rent them out or take them down and do something different," he added.