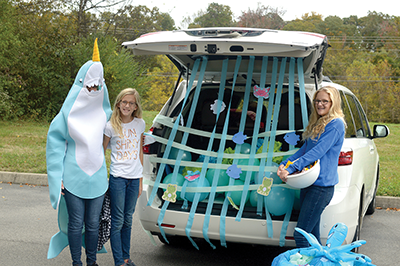 From left, Cheri Dubes (narwhal), Emily Dubes and Lauren Dubes

Christ Covenant Church P.C.A. reached out to the community with a Fall Festival for Special Needs Families at the church, 12915 Kingston Pike, Sunday, Oct. 27.

About 200 people — among them 35 families — attended, with some festival-goers and volunteers even dressing up in costume. Teresa Pratt, CCC media and design director, said the festival is an annual event focusing on the entire family of special needs children and adults. Farragut High School's football and dance teams; Knox County Sheriff's Office K-9 Officers Gerrit Graves with partner, Rudi; and University of Tennessee Advocates for Autism volunteered at the event as well.

"Christ Covenant members volunteered to provide Trunk or Treat, carnival games, a puppet show, a craft table, pumpkin painting and more," Pratt said, adding, it was "a safe and fun environment for these children, as well as their families." The church also built a special needs playground on its campus earlier this year.

See more photos from this and other area fall festivals on our Westside Faces page in our print edition.