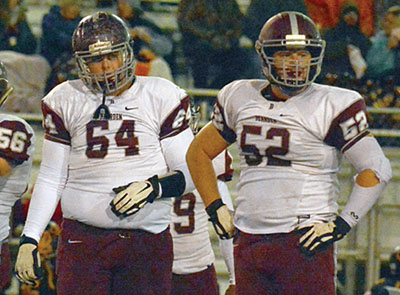 Bearden's defensive line duo of Jay Pemberton (64) and Gavin Campbell helped limit the otherwise powerful McMinn rushing attack Friday, Nov. 8.

ATHENS — During a pregame show on the radio home of McMinn County football, the validity of having Bearden actually favored against the homestanding Cherokees, according to a few local high school football pundits, was questioned.

After all, McMinn was having its best season in years at 9-1, a No. 2 seed from Region 2-6A with a super-strong rushing attack, while the Bulldogs were 4-6, the No. 4 seed from Region 1-6A coming into this opening round playoff game Friday, Nov. 8.

Moreover, the Cherokees soundly beat BHS 37-13 at McMinn Sept 27.

And judging by the game's first drive, the Cherokees seemed to be making all that pro-Bearden punditry seem silly, marching 81 yards to make it 6-0 in just five plays and less than four minutes.

But from that point forward, Morgan Shinlever's Bulldogs tightened up defensively, made two big plays offensively and proved those pundits correct.

Correct with points to spare.

Unlike late September, "We had our team here tonight," a happy Shinlever said following a 23-6 Dawgs victory — the first BHS playoff win in nine seasons — having a much healthier team versus the first game. "... Our whole starting defensive line that played tonight did not play in that first game."

But when it mattered most, "Defensively we won the first-down match-up most of the night, putting them in second-and-long, third-and-medium situations," the coach said about limiting the productively of Cherokees explosive star running back Jalen Hunt, power back Jalen Sharp and quarterback Parker Manney.

In fact, "We were ready for (Hunt). One of our running backs, he dressed up as (No.) 17 (Hunt's number) in practice," defensive back/running back Makai Williams said.

"We were clicking on all cylinders," said Gavin Campbell, one of the starting defensive lineman missing earlier who also plays on the offensive line.

"With their offense, which is a very good downhill running game, we knew if we could get up a score or two on them, that would kind of put the pressure on them to maybe do something they were uncomfortable with," Shinlever said about what proved to be McMinn's struggles to throw the ball successfully downfield.

"And we executed better offensively tonight," he added.

Julian Kendrick's 43-yard kickoff return helped set up Collin Ironside's 5-yard quarterback draw TD just 80 seconds after the McMinn score.

Connor Cross's extra point gave BHS a lead it never relinquished.

Despite not scoring after a recovered a fumble inside the McMinn 10, a bad MCHS punt snap for a safety gave the Dawgs a 9-6 lead with 3:28 left in the third.

Bearden then marched 49 yards, ending on Williams' 32-yard scoring run, breaking a tackle then getting down the right sideline. It was 16-6 late in the third quarter.

The Dawgs iced the game by marching 80 yards, which ended with Ironside's perfectly placed 46-yard deep strike to Williams down the left sideline for six points, making it 23-6.

"I catch it and everybody's going crazy," Williams said.

"Makai Williams had a really good night," Shinlever said. "Collin Ironside, our quarterback who was not a hundred percent the last time we were down here, threw some pretty passes. ... He was cool, calm and collected."

Kendrick added an interception late. "Julian Kendrick made plays on special teams returning kicks, huge tackles," the coach said.

Shinlever also praised defensive lineman Jay Pemberton "for helping clog up the A-gaps."

"This whole week in practice we've been emphasizing our D-line mashing their O-line back, and I think we did that really well," junior linebacker Christian Spinning said.

Campbell "played both ways ... played really well," the coach added. "Chase Butcher, our center, he has a serious hand injury, but he only missed one snap."

The next upset chance will be at Kingsport Dobyns-Bennett Friday, Nov. 15, against an Indians team (10-1, No. 1 seed from 1-6A) having won decisively at BHS Sept. 6 versus an injury-plagued Dawgs team.

Opening kickoff is 7 p.m. EST.