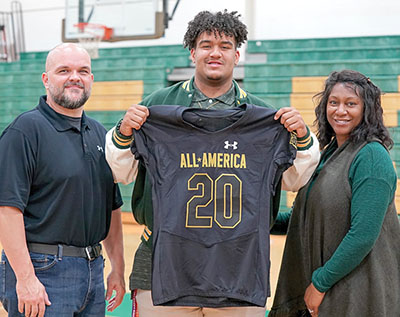 Supported by his parents, Mike and Shay Tucker, Knoxville Catholic senior lineman Bryn "Tuck" Tucker shows off his honorary jersey during a ceremony Thursday, Nov. 7, in the high school gym, commemorating his selection for the Under Armour All-American game Thursday, Jan. 2, in Orlando, Florida.

Bryn "Tuck" Tucker, one the nation's more highly regarded high school lineman, will enjoy a coast-to-coast spotlight before becoming a college freshman at national powerhouse Clemson in January — and it's a doozy.

Tucker, a senior lineman at Knoxville Catholic High School, has been chosen among more than 90 top high school football players in the United States to play in the prestigious Under Armour All-American Game beginning at 6 p.m., Thursday, Jan. 2, in Orlando, Florida.

He is the only player in Knoxville, and only one of three in the state, who has been selected to play in this year's game, which will be broadcast on ESPN2.

"He is just a great young man and is very deserving of this honor," Fighting Irish football head coach Steve Matthews said following an Under Armour All-American Jersey Presentation Ceremony Thursday, Nov. 7, in the KCHS gym.

"He is just a great player and is probably one of the best in the country."

"I just want to thank God, and my mom and dad and all my family, for being there, every step of the way," said Tucker, who also acknowledged his coach, teammates and classmates during the ceremony.

"I also want to thank the Irish Nation — you made me who I am and I'll never forget it."

Tucker is the son of Mike and Shay Tucker, who moved to the area four years ago so he could attend Knoxville Catholic and play for Matthews' Fighting Irish.

Tucker actually is the second Knox Catholic star player to be chosen for the Under Armour game – Amari Rodgers, a junior standout wide receiver also at Clemson, represented the school in January 2017.

Matthews also was honored, having been selected as a coach for this All-American game.