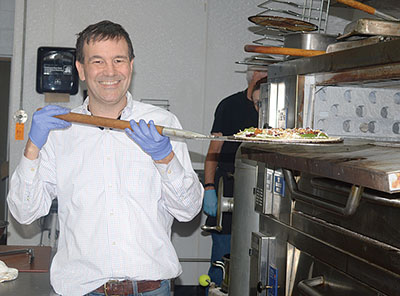 After being closed for six years from its Northshore Drive location, Travis Redmon has re-opened The Pizza Kitchen at a new site in the former Empire Pizza in Lovell Heights shopping center, offering a gourmet flair of New York-style pizza.

The Pizza Kitchen is back with a new location near Farragut.

Owner Travis Redmon opened the business Oct. 21 at the former Empire Pizza location, 10420 Kingston Pike in Lovell Heights shopping center just east of Town limits.

"It's been fun to see former customers rediscover us," he said.

The restaurant offers pizzas more on the gourmet spectrum.

"It's the New York-style with flair," Redmon said. "We have your basics, from pepperoni and Mama Mia, which would almost be like a supreme, to off-the-grid items, which would be like a Thai pie, which is a peanut sauce-based pizza — it's incredible. We also have the pesto swirl, which is (in our) top three favorites.

"So, we mix up the classics, with some off-the-grid items people love," he added. "We've got a pumpkin pizza right now that's our special."

The Pizza Kitchen's fare also leans more toward a healthier choice.

"We use whole-wheat blended crust," Redmon said. "We also have a cauliflower crust for those who are gluten-sensitive.

"We make everything in house," he added. "Everything is made fresh daily."

The restaurant also carries appetizers, such as garlic knots, shrooms (portobello caps stuffed with a house recipe of herbed cheese blend, baked and served with pesto), a saucy meatball, "Burning Love" hot wings and black bean hummus, and salads.

Currently, The Pizza Kitchen has a lunch special between 11 a.m. and 3 p.m. — an 8-inch pizza with salad/drink for $9.95 or an 8-inch pizza and drink for $7.95.

Redmon had The Pizza Kitchen located off Northshore Drive from 1998 to 2013 before he decided "it was just time" to close.

"We had 15 years there," he said. "We had some good times and some bad times. It was a good time to close it up, take a six-year nap and do it again."

However, he said, "My boys and I still liked to eat pizza" and brought his two sons to Empire Pizza.

"When I noticed (Empire Pizza owner) was closing his doors to focus on his food truck, I decided it was a good opportunity for us to open back up," Redmon said.

He initially went into the pizza business simply because "I like pizza," he added. "(His sons) like pizza, too. As a matter of fact, they've been helping me out a lot."

The Pizza Kitchen is open from 11 a.m. to 9 p.m., Monday through Saturday, and closed on Sundays. Currently, it offers dine-in or carryout. But soon, Redmon said there will be delivery service through the Bite Squad and online.