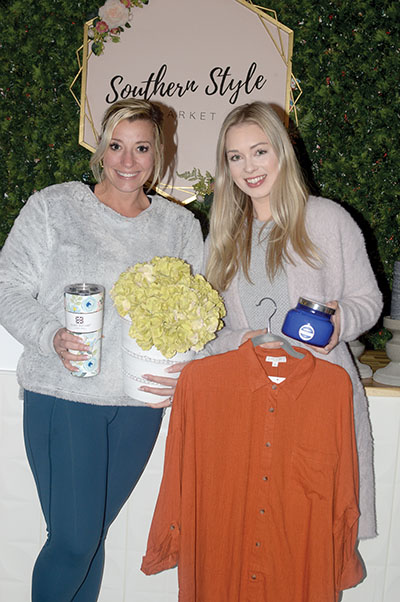 Shae Design Studio owner Shae Seeber, left, and interior designer Olivia Greenway welcome the Farragut community to Seeber's newest venture, Southern Style Market, a new boutique adjacent to SDS in Lovell Heights shopping center, 10420 Kingston Pike.

Shae Design Studio has branched out to add fashion, home décor and gifts to its repertoire at its new boutique, Southern Style Market — adjacent to SDS, 10420 Kingston Pike in Lovell Heights shopping center near Farragut — just in time for the holidays.

"I am so excited about it," said Shae Seeber, owner of SDS and SS-Market. "Our goal is to bring incredible fashion for all ages. I think we've got something for little bitties all the way up."

"And, for fur babies, as well as our real babies," Southern Style Market manager Olivia Greenway said.

About complementing the Studio, Greenway added, "We were slowly bringing in home décor, as well as furniture, and we kind of wanted to expand on our home décor side of it and bring in some giftable items, as well as clothing, and merge them together since fashion and interior design go hand in hand, to have a one-stop shop."

"We've done really well with our interior design (business), so I think really adding the fashion side of everything is going to be a huge plus," Seeber said. "… We're going to have giftable items as far as candles, lotions, coffee mugs, really cute T-shirts."

Guys can find items to pick up for their girlfriends, but there also is a table laden with men's items such as cologne and toiletry bags.

"We also have clothing, jewelry and hats – just a place where you can find just about anything and a gift for everyone," said Greenway, an interior designer with SDS. She also manages SDS showrooms and is the buyer.

"I don't feel that Knoxville has something like this, something that's unique and local that can merge both interior design and a cute boutique," she added. "This is a place you can bring your mom, your best friend. It's geared toward all ages, really."

Seeber agreed, adding, "I feel like there're not many great boutiques in Farragut. There's a lot of 'big box' stores but not a lot of small, local, community (shops), and the cool thing about Southern Style (Market) is 10 percent of all our profits is getting donated to non-profits."

SDS also is partnering with a recovery ministry, Epperson Ministry, which helps folks with addiction recovery, job placement and vocational training.

"This month, we supported Care Cuts of Knoxville, which does haircuts for the homeless," Seeber said.

The boutique held its grand opening this past weekend.

Store hours are from 10 a.m. to 6 p.m., Monday through Friday; from 11 a.m. to 3 p.m., Saturday; and closed Sunday.

For more information, call 865-313-2656 or visit www.ShaeDesigns.com/.