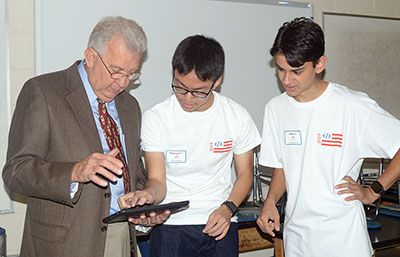 Farragut Alderman Ron Pinchok learns about coding with an iPad from Farragut High School Advanced Placement computer science students Raymond Jin, center, and Aidan Caritu during a PolitiCode event at FHS Tuesday, Nov. 5.

Education was turned on its head Tuesday morning, Nov. 5, at Farragut High School, where students were teaching programming skills to elected officials.

Groups of students from seven Knox County Schools gave more than 30 Farragut, Knox County and state-elected officials lessons on coding as part of PolitiCode, a fun-filled half hour giving officials a unique insight into not just future technology but what students are learning today.

"It's happening now," said Brandon Bruce, founding member of Knoxville Technology Council. "These are our future entrepreneurs. This is our future workforce … the talent is all in this room."

Officials went from room to room where students from FHS, HVA, Northshore Elementary, Dogwood Elementary, Vine Middle, Holston Middle and South-Doyle High School interacted with them on exercises.

"Coding is everywhere nowadays," FHS AP computer science teacher Brandi Finchum said. "We just want to make it so popular that everyone gets to do it."

"We are teaching politicians how to code, using Sphero bolts (balls)," she added about her 13 FHS students at the event.

"We have mazes on the floor, and (officials) take the little Spheros and they're going to solve it … using block coding.

"If you've ever been to a modern factory, you realize 'that's how things work,'" Knox County Mayor Glenn Jacobs said. "It's all about robotics. People do not put nuts on bolts anymore.

"So, when we're looking at the opportunities of the future, this is what it's all about — technology," he added.

"Programs like this are extremely important because, as we look at the future of the world, coding skills and technical skills are going to be a vital part of our young people's success."

Did officials learn anything?

"Absolutely, I did," Farragut Alderman Ron Pinchok said.

Remembering the instruction of FHS students, he marveled about how the iPad controlled the Spheros.

While the exercises were fun, "We all need to get better at (technology and computers)," Pinchok said. "That's the wave of the future (but) it's here, it's here already."

While Knox County Schools teamed up with Knoxville Technology Council and Great Schools Partnership to host the event, it was the brainchild of Bruce, who initiated it after reading an article about an Australian company that got members of parliament together, talked about technology and "did some coding" with them. He thought, "What a cool idea.

"We definitely should do something like that in Knox County, but we put our on little spin on it," he added, referring to the students as teachers. "They already know way more than all of us know."

"I love this opportunity because this is what I love to do," Hardin Valley Academy senior Evan Boswell said. "I spend hours and hours each week doing coding for school. Now we get a chance to share this with important people in our school system and government … I never had that opportunity before."

Bruce acknowledged the 50 students who participated, noting Nov. 5 technically was "a day off" for them.

Hardin Valley Academy with Ear Sketch, showing how codes can create music; South Doyle High, an exercise with micro bit; Northshore Elementary, Osobot bowling; Holston Middle, coding with scratch; Vine Middle School, watercolor bots; and Dogwood Elementary, LEGO robotics.

"I thought it was important to come and see what our students are actually doing in the classroom," said Susan Horn, Knox County Schools Board chairman and representative of the 5th District, which includes Farragut.

Finchum explained the spheres are "little bitty robots that "I think that their logic is going to improve a lot," Finchum said, referring to the officials.