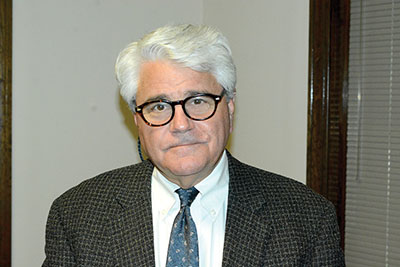 Tom Hale

Town of Farragut attorney since "1997 or 1998 as I recall," Tom Hale first became familiar with Town matters not long after its incorporation on Jan. 30, 1980.

Knowing then Town attorney David Rodgers through the highly respected firm then known as Kramer Rayson Leake Rodgers & Morgan based in downtown Knoxville, "I had worked with David a good bit on Town of Farragut matters," said Hale, describing himself as a business/real estate attorney. "And I lived out here."

Starting his law practice as a partner at what is now referred to Kramer Rayson, LLP in 1980, "I actually worked for Kramer Rayson for two years while I was in law school, so I had actually been there since 1978 … I was a clerk for the firm," Hale said. "I worked there when David was kind of working through the process (of Town incorporation). … I worked primarily with David, and he needed the help … on a lot of things that involved the Town."

For example, "My first memory of it is actually the one where it was a question of whether or not the new zoning ordinances the Town adopted were going to apply to a property — I think it was the property the Biddles owned where Kroger is located," he said. "… I did the research and drafted some of the briefing.
Foundations: 40 Years of Farragut
Growing up in Hamblen County, Tom Hale said it was a great uncle who helped influence him into becoming an attorney — a former state of Tennessee Attorney General and Tennessee Supreme Court Justice no less. "He was a pretty well-known attorney, actually, he was the Chancellor up in Hamblen County … then the youngest Chancellor in the state," Hale said about George McCanless. "… He was the only attorney in our family at the time." In addition, "Like a lot of people I watched 'Perry Mason,'" he added about the influence of this popular CBS criminal trial show from the late 1950s and early 1960s, which also has been popular in reruns. "And some of the other (law-related) TV shows. "I kinda always wanted to be an attorney," he added. Moreover, "I played football growing up, and I'm sort of a competitive person," Hale said. Beyond family influence and TV drama, "I like to help people solve problems … whether it's in litigation or you're negotiating or you're preparing legal documents," said Hale, describing himself as a business/real estate attorney who has been a partner at the highly respected Kramer Rayson, LLP firm in downtown Knoxville since 1980. "They've got some issue or problem they need to get resolved. "I get personal satisfaction out of doing that." First arriving in Knox County in 1972 to attend the University of Tennessee, and later UT Law School in Knoxville, Hale and his family have lived in Farragut since the late 1990s. A son, Andrew Hale, joined Kramer Rayson "last year, and he's helped me with some research on some zoning things," Hale said. He and wife, Terri, also have another son, a daughter and eight grandchildren. This weeks Foundations: 40 Years of Farragut podcast is presented by Matlock Tire Service
"… Someone was planning to build a convenience store somewhere on that property," Hale added. "And I can remember there was an issue about whether or not those parties were vested in the zoning that they (may previously have) had under Knox County's regulations, or were they governed by the Town's newly adopted zoning ordinances?

"My memory is we won that. … The (convenience store builders) hadn't really done anything, hadn't invested any money" during the time while Knox County's regulations would have applied.

He also recalled the controversy when the Knox County Trustee withheld the Town's portion of sales tax revenue it was due to receive.

The Town versus County dispute, as Hale recalled, involved a disagreement over what percent of its sales tax revenue the Town was required to invest back into Knox County Schools.

"We had to file a lawsuit … that was pretty important because the Town didn't have any money," Hale said. "And it was intended to operate on the local portion of the sales tax."

Hale also recalled how the Town "was trying to protect its territory" from City of Knoxville lawsuits in the early and mid-1980s seeking to annex areas already incorporated into the Town.

"I think there was some question about whether or not Knoxville has actually commenced annexation before Farragut" incorporated the same area, he said.

Hale as Town attorney

"When David Rodgers decided he was going to retire … I put in an application and was interviewed individually by members of the Board (of Mayor and Aldermen)," he added.

Now with more than 20 years of experience, "You never know, when you represent the Town, when they're going to have an issue with somebody that lives out here or a homeowners association," Hale said.

As a result, "I try to avoid representing people in the Town just because you never know when you're going to have a conflict," he added.

Recalling Eddy Ford's era as mayor, which coincided with Hale's Town attorney work from the late 1990s into 2009, "He had a lot to do with, just from my observation, the Town's relationship with the Department of Transportation and working with the state to get funding to improve roads and infrastructure within the Town," Hale said.

"There was always something on the (Board of Mayor and Aldermen meeting) agenda, it seemed to me, of a project that Darryl Smith (Town engineer) and Eddy were working on with the TPO to get grants from the state to improve the roads.

"If you go back and look at pictures of the Town in the early days, it's amazing to me how different the Town is today than it was 30 years ago," he added. "There wasn't Campbell Station Road extension. … You go down the list of major improvements: Grigsby Chapel, Turkey Creek, Everett Road, getting ready to do Virtue Road … Concord Road."

Moreover, "Eddy was organized, liked to make sure people knew what was going on in the Town," Hale said.

As for that era's Town administrator, "Dan Olson was great to work with," Hale said about the late administrator who served well into the first decade of the new millennium. "Dan was a very, very capable guy, particularly when it came to budget issues."

David Rodgers, Kramer Rayson

"David was great to work with, and just a really fine person. I learned a lot working with him," he said about the highly respected late attorney whose has a plaque in his honor located in Town Hall rotunda. "… David was a smart person, and had a great reputation because he treated people right. And a hard worker.

"The judges respected him. … He could take a complicated set of circumstances and he could hone in on the most important thing," Hale added.

Overall, "One of the great blessings in my life was being at that firm because of the people there were, and still are, really, really fine, good people," Hale

said.