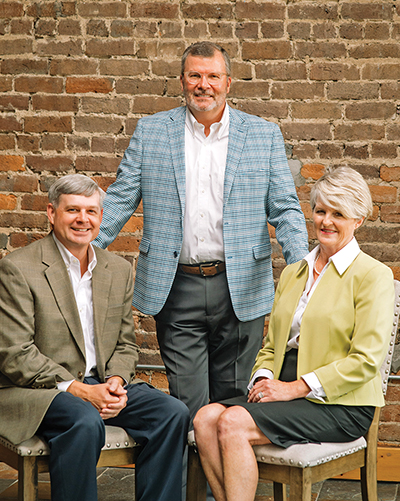 Partner management team of Tennessee Pension Administrators, LLC: Daniel McWhirter, left, Matt Grabeel, Sheila Young and Kim Miller (not pictured). The company is relocating to Farragut Professional Park Monday, Nov. 25.

A long-standing partnership is bringing a new business to Farragut.

Tennessee Pension Administrators, LLC., is moving into renovated office space in Farragut Professional Park, 11911 Kingston Pike, Monday, Nov. 25. The location is adjacent to Rather & Kittrell Capital Management, which purchased 90 percent ownership of TPA nearly three years ago with an eye toward eventually moving it closer, explained Chris Kittrell, company partner in both firms.

"We have worked really closely with TPA for years and respected the work of Matt Grabeel and his team," Kittrell said of TPA. "They are exceptional at the details of administering 401k plans, and we are one of the largest area providers of advisory services to business owners on their 401k plans.

"The synergy we had with their firm and the chance to combine our expertise helped us realize early on we wanted to bring them closer to us, if we could, making the end result for our clients even better," he added.

"When the opportunity to purchase the building next to us and then move TPA into Farragut occurred (earlier this year), we were very exited about being able to make that happen."

TPA, founded in 1998 as Pugh & Company Benefits Consultants, LLC., had previously operated the last seven years at 117 Center Park Drive.

"TPA was established to help lessen the burden of employee benefit administration for employers and to provide a level of expertise and personal service unavailable anywhere else," stated a company press release, which credits its affiliation with Rather & Kittrell as adding "additional depth of knowledge, experience, perspective and leadership" to the company.

Rather & Kittrell, 11905 Kingston Pike, purchased the adjacent building earlier this year and spent the last several months renovating its upper floor, where TPA will be located.

"As everything has grown out west, it was an opportunity we couldn't pass up," Kittrell said about the acquisition.

"It will be great for us," he added. "We modified the space. Michael Brady has a construction arm who completed the renovations for us, and they did a great job."

The building will continue to house three existing businesses, including Edward Jones, Melrose Title and Josh Griffin-Shelter Insurance.

Matt Grabeel, president of TPA, said the company has 10 employees and operates under a four-person management team consisting of himself, Daniel McWhirter, Sheila Young and Kim Miller.

"We are excited about the move and increasing our presence and awareness of our services offering in the Farragut community," said Grabeel, who added TPA serves many other financial advisors beyond Rather & Kittrell.

Grabeel, along with several other TPA employees, also are excited about the opportunity to "come home," as many have ties to Farragut.

"I am a Farragut product," he said. "I moved to Village Green in 1968 when my parents moved us to Tennessee. We have three (on staff) who are Farragut graduates. I live in Hardin Valley, so moving the office to Farragut is somewhat of a homecoming.

A ribbon cutting is planned for sometime in January.