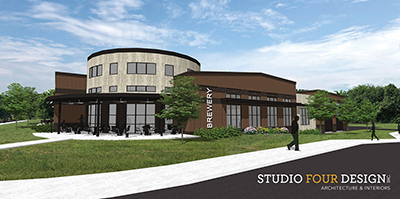 Updated images were provided from Doug Justus this week for the planned Admiral Landing development at the corner of Campbell Station Road and Kingston Pike (former Phillips 66 convenience store site). Justus, along with Carlos Cortez, own the property and are developing it.

The old Phillips 66 convenience store is almost completely gone at the corner of Kingston Pike and Campbell Station Road, thanks to quick demolition work that started last week making way for Admiral Landing, a new restaurant concept receiving site plan approval last month from the Farragut Municipal Planning Commission.

Owners Doug Justus and Carlos Cortez are planning a 9,600-square-foot building complex, with a centerpiece concept of rotating food trucks that would be located in a semi-enclosed space at the east end of the building.

"As proposed, the food trucks will essentially act as revolving kitchens for the brewery/restaurant," noted a report from assistant Community Development director Bart Hose that was included the in October FMPC packet.

Other permanent tenants suggested have included a brewery/beer garden, an as-yet-undetermined restaurant and possibly an ice cream shop.

The property has been vacant for some time and has been the subject of much speculation, but it is a shared parking and access agreement with adjoining property to the north that seems to be a key component to the current plans, as property access has been problematic in the past.

"The shared parking and access provisions will allow the developers to eliminate (one) of the existing driveway cuts on the property," Hose's report further stated. "Access will be provided by a right-in/right-out drive on Kingston Pike and via the existing access drive in front of the LCUB building on North Campbell Station Road."

"They have taken a tough site and done a really good job with the design," FMPC member Noah Myers said.

While no completion timetable has yet been released for the project, "The first phase of development at Admiral Landing has officially begun," Justus noted Monday, Nov. 18. "We are very excited about this project, as we believe it will add to the appeal of Farragut, while offering a number of great new options for its residents."

"Feedback from the local community has been positive as well," Cortez aaid.