Garcia running late prevents injury as a truck plows into his home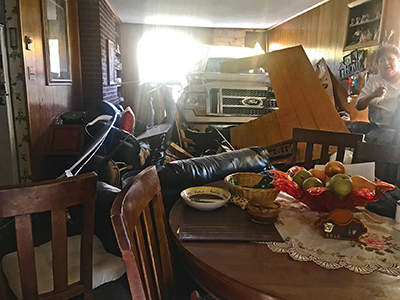 This is an interior view of Manuel Garcia's living room after a truck driven by a reportedly drunk driver crashed into the home around 3:30 p.m., Wednesday, Nov. 13.

Manuel Garcia was thankful that on Wednesday, Nov. 13, his El Mezcal co-worker had been running late. It probably saved his life.

"I was on break for lunch, and was a little late, because my co-worker was late because of traffic," Garcia said the day after a truck — reportedly driven by a drunk driver — had plowed into the living room of his Roane Drive home.

"That might have saved my life," he said. "After I eat, I usually go to the sofa and take a nap, and when the truck hit it came in right where the sofa was.

"Things happen for a reason — it must have been a miracle or something like it."

"He must have a guardian angel looking over him," said Garcia's nephew, Arturo Leon Jr., who was on the scene of the accident later in the day and went on to cover his uncle's shift at the family-owned restaurant.

Garcia described the incident itself as surreal. He and his mother, Elva Garcia, who lives with him, were both in the kitchen when the truck hit the house around 3:30 p.m., Wednesday, Nov. 13.

"I was eating, and I felt something that felt like an earthquake because the house was shaking when he hit it. Then I was seeing the TV (which had been on the wall) coming at me, and then I saw the truck," he said. "It stopped just a few feet in front of me."

The driver was trapped inside the car, and Garcia said he could hear the driver screaming.

"It was not from pain," he said." But he was saying he was feeling bad about what happened.

"It is my understanding that he got confused, and thought he was at a friend's house who lived down the street," Garcia added. "Then instead of hitting the brakes, he hit the other pedal."

Garcia and his mother, who were not injured, were able to escape the house through a back door. They called Garcia's sister, who lives nearby, then contacted 911.

First responders from Rural/Metro, along with officials from Knox County Sheriff's Office, quickly arrived. The driver of the truck, whose named has not yet been released, was taken to an area hospital with unknown injuries. He reportedly would be charged with driving under the influence, according to Jeff Bagwell, Public Information Officers for Rural/Metro.

Garcia and his mother were still on the scene two hours later where Elva, who does not speak any English, conveyed through the translation of her granddaughter, Jazmin Leon, she was "very frightened, very shocked and very scared," but added she was "very happy Manuel was alright."

Garcia and his mom are staying with his sister for now, while damage to their home is assessed before repairs would begin.

An incident report had not yet been released by KCSO as of press deadline Tuesday afternoon, Nov. 19.

"The fire department told us we couldn't stay there until repairs were made because of safety reasons," said Garcia, who noted several other family members quickly stepped in to help.

"I have two nephews," he said. "One covered for me at the restaurant, and the other took my dog, Max, to the vet."

Max sustained injuries to his paws during the accident, and was treated at a nearby veterinary clinic.