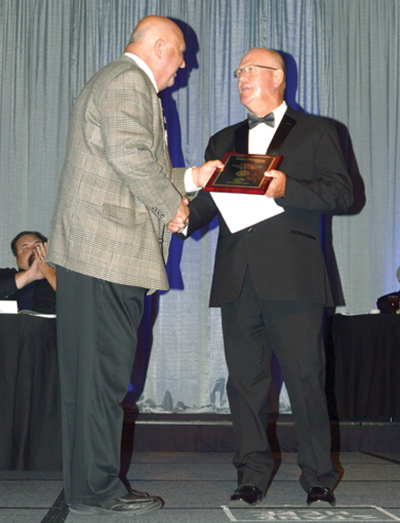 Rocky Goode, left, presented Eddie Courtney, Farragut High School varsity football head coach, with the 2017 Pat Summitt Ignite Greatness Award during the Aug. 3, 2017 Greater Knoxville Sports Hall of Fame Dinner and Induction Ceremony.

A popular Farragut resident, who for years could be seen nationwide on CBS on various Saturday afternoons in the fall refereeing Southeastern Conference Football games, has died.

Rocky Goode, 66, passed away about 2 a.m., Monday morning, Nov. 18, at Parkwest Medical Center from complications involving dementia, pneumonia and internal organ issues, close friend Chuck Cavalaris advised.

"He had been in declining health for a few years," said Cavalaris, a well-known Tennessee Football and Men's Basketball TV pundit, journalist and golf expert.

Regarded as one of the best high school running backs in East Tennessee in the early 1970s — a Bearden Bulldog — Rocky was recruited by Alabama coaching legend Paul "Bear" Bryant before choosing to stay at home and be a Tennessee Vol.

Inducted into the Greater Knoxville Sports Hall of Fame in 2012, "He was like a man among boys," Cavalaris said about Rocky's rushing success at BHS. "He was just so much bigger and faster than everybody else.

"He was pretty much in a league of his own."

Most importantly, perhaps, "He loved this community," Cavalaris said. "I always respected Rocky for how thoughtful and well-spoken he was. Such an humble, giving person.

"I can honestly say, he's one of the best friends I ever had," he added.

"He was, without a doubt, one of the most special people I've ever known."

A college football official for more than 30 years who began working full-time in the SEC in 1996, "He liked to tell the story about some friendly jabs he had with Steve Spurrier when Spurrier was (head coach) at Florida," Cavalaris said about the time Goode refereed one of the "The Ole' Ball Coach's" Gator games.

"When Spurrier heard Rocky Goode was going to be the referee of one of his games, his comment was, 'Oh yeah, it's that guy from Knoxville," he added.

But after the game, Spurrier said to Rocky.

"'You did a real good job,'" Cavalaris recalled about the story. "... Rocky took a great deal of pride in making sure everything was done by the rules."

After retiring from on-the-field officiating, Rocky became supervisor of Video Replay Officials for SEC Games, with the responsibility of reviewing calls made on the field.

A key volunteer in helping run The Knoxville Open at Fox Den Country Club each year, "He was one of the main people in getting the Knoxville Open moved to Fox Den," Cavalaris said.

Also an insurance executive, "Rocky was an avid golfer until the last couple of years," he added.