From Iran to Australia to Brazil, Park Place's Clark also tells of 'Big Island' home, Taj Mahal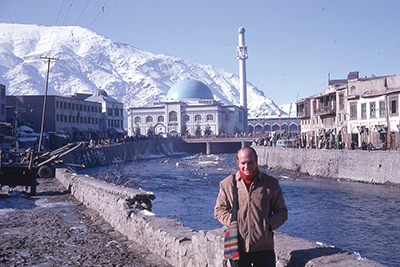 Chuck Clark on the grounds of historic buildings in Kabul, Afghanistan, during his first around-the-world trip in February 1969.

Park Place of West Knoxville resident Chuck Clark, who has traveled around the world twice, still has wanderlust in his heart.

"I love traveling," he said. "I think it's fun."

Before moving into Park Place about 20 months ago, Clark lived on the "Big Island" in Hawaii for 24 years. But he moved to Farragut to be closer to his daughter, Jennifer Dzermejko.

Canvas prints of photographs he took during his treks line his apartment home walls, and mementos cover his chest of drawers and several tables.

"(The prints) are from different sections of the world that I put together," he said, noting he has 800 slides of sites he has visited in his lifetime.

Among the many items Clark collected, he made note of a bell from Nepal, a pottery shard and obsidian arrowhead from Guatemala, a wooden box from Burma, what looked like a horn from Valley of the Kings in Egypt and a boomerang from Australia, where he lived for almost two years.

The New Jersey native started his travels in 1951 — between high school and college.

"For three weeks, two of us went out West in a 1930s Chevrolet from New Jersey," Clark recalled. "We walked down the Grand Canyon and back up again. It took us three hours to go down and 10 hours to go up. That was the beginning of my wanderlust."

Starting in May 1966, at age 33, through September 1969, Clark traveled around the world.

"I traveled by boat, by plane, by yacht, by train … hitchhiked," he said.

"I traveled for 10 months from Washington, D.C., to Australia for $1,800, and then I worked in Australia to get enough money to come home, and I traveled a year from Australia through Asia, London ... for $2,400," Clark added.

"My second around-the-world (trip), I went by private jet (January 2015), spent my kids' money," he added and laughed. "I went to eight countries — Palau, Burma, Bhutan, Seychelles, Botswana for a three-day safari, Canary Islands, Rio de Janeiro in Brazil and Cartagena in Colombia — in 24 days."

Clark has stood in front of the Taj Mahal in Agra, India, and watched a Hindu pilgrimage to the holy river, Ganges, where 3 million people bathe in the river July 26 every year.

"I just happened to be there the day they did that," he said.