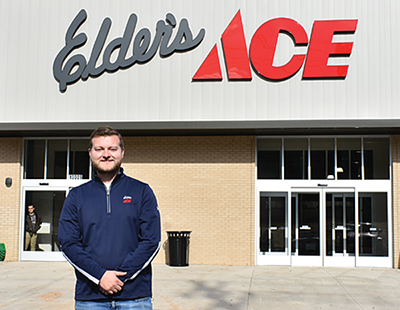 Store manager Tanner Robinson stands proudly in front of the newest Elder's Ace Hardware, 10009 Hardin Valley Road, which launched a soft opening Friday, Nov. 22.

Elder's Ace Hardware — which is marking a half-century in business this year — has one more reason to celebrate with the opening of its newest Knoxville-area store in Hardin Valley.

While some aspects are still being completed, such as the outdoor and greenhouse areas, store manager Tanner Robinson and his team launched the "soft opening" of the new 17,000-square foot business, 10009 Hardin Valley Road, Friday, Nov. 22.

Elder's Ace Hardware Hardin Valley brings all the equipment, interior and exterior products and company services Ace customers have come to depend on down through the years, as well as a brand-new concept in Elder's Mercantile, a shop-within-a-shop offering countless home and gift items.

"This has probably been the company's largest investment, especially with the new concept store," said Robinson, who has been with the company nearly nine years, starting when he was in high school.

"We are really stepping it up and taking that idea to the next level," he added.

"We are really excited for Hardin Valley residents to see this store," said John Rutter, Elder's Ace director of Marketing and Innovation. "We will be offering everything from hardware to home interior, gifts and clothing.

"It was also really important to us to be able to not only meet the needs of the local market, but also offer local brands and local products," he added.

Rutter noted the store will carry Hardin Valley-based W.R. Case knives among its many local offerings, along with Hiwassee Trading Company Socks out of Niota, Tennessee Toffee, Vienna Coffee, roasted locally in Maryville, local chocolate brands and even local BBQ seasonings and rubs.

Many of the specialty items are located in the Mercantile, under the direction of Mercantile manager Carla Bailey, who pointed to other unique manufacturers including laser cut maps from Fire & Pine, upscale food gift items from Bella Cucina and an all natural baby product line, Noodle & Boo.

"We are proud to provide our boutique items that really rival anything else you might find in the area," Bailey said. "We are excited to help make this store such a great shopping option."

This new location also will offer national namebrand products from companies including Carhartt, Stihl, Big Green Egg Grills, Yeti and DeWalt, Craftsman and Milwaukee tools.

When completed, the Hardin Valley store also will have the company's largest nursery, with two greenhouses and an expansive outdoor area, Robinson added.

The Chattanooga-based business, founded in 1969 by Elder Glenn, has 22 family-owned and locally operated stores throughout East Tennessee and North Georgia. It first entered the Knoxville market in 2000 with the acquisition of Dixie Lee Junction's Ace Hardware, and now has six others in the Knoxville area.

Store hours are from 7:30 a.m. to 8 p.m., Monday through Saturday, and from 10 a.m. to 6 p.m., Sunday.

For more information, call 865-240-0961.