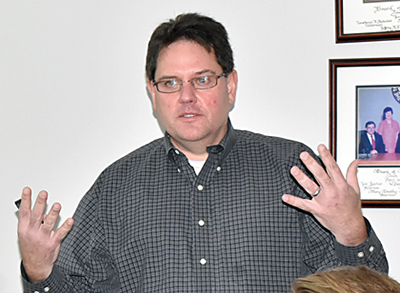 Farragut Alderman Scott Meyer presented an idea to bring a National Grass and Beach Volleyball Tournament to Farragut next summer to the Town Tourism/Visitor Advisory Committee Tuesday, Nov. 19.

Saying he will ask colleagues on Farragut Board of Mayor and Aldermen to transfer $15,000 budgeted in 2020 for the Knoxville Open, which has moved elsewhere in Knox County, Alderman Scott Meyer wants to use that money to fund a national volleyball tournament in Farragut.

"I think this would be a great pilot project," which could ultimately position the Town as an amateur sports destination, he added while proposing the idea before the Town's Tourism/Visitor Advisory Committee Tuesday, Nov. 19.

In fact, the proposed Admiral Classic National Grass and Beach Volleyball Tournament is tentatively scheduled Aug. 7-9, 2020, at Mayor Bob Leonard Park, said Chris Hames, six-time state champion Webb School of Knoxville volleyball head coach and owner/operator of K2 Volleyball Club. She would coordinate the tournament.

Long-term solutions

To fund similar ventures long-term, Meyer said he was "so excited to be able to share ... my idea for how we could use some of our Hotel Occupancy Tax in relation to sports tourism," though such a tax already has been shot down by BOMA three times since 2013.

He said he "would support 'reasonable tourism,'" such as the national volleyball tournament would draw in his view, which Meyer defined as events that would "increase Farragut (hotel) occupancy rates" because increased occupancy rates increase sales taxes generated from tourists during their stay in Farragut.

Meyer summarized "types" of tourism — based in part on an October presentation by John Whisenant, director of tourism for the Tennessee Hospitality and Tourism, who spoke before the Board — and concluded only tourism from business travelers and amateur sports events meet his definition of "reasonable tourism."

"We don't have the attractions, we don't have a beach, and when people come to visit family they stay with their hosts," he added.

Meyer also said he is "not interested" in implementing a Hotel Occupancy tax if the moneys "will not be spent on reasonable tourism."

During the crux of his proposal, Meyer cited amateur sports financial data from HBO Sports and Time magazine, which reported $15.3 billion is spent annually on amateur sports in the United States, and "is increasing 20 percent every year."

He added such "reasonable tourism" in Farragut would increase sales taxes to "offset" the 10 percent decrease in Town revenue resulting from the Hall Tax termination starting Jan. 1, 2021.

He also noted Town land is 80 percent built out, and Town revenues from building permits, which makes up 4 percent of its revenues, eventually will decrease as the undeveloped land is "built out."

Meyer noted his own passion for volleyball, as both of his daughters play volleyball for Concord Christian School and K2.

He and Hames will be presenting their proposal again during a BOMA workshop Thursday, Dec. 12. Meyer's $15,000 transfer proposal is an agenda item for the BOMA meeting immediately following the workshop.

"I would love to see us build a sports complex, but that is a discussion for another day," he said.