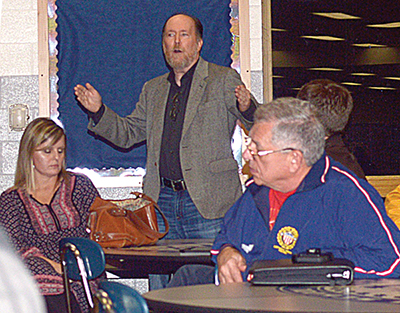 Kings Gate subdivision resident Mike Mitchell, standing, voiced his concerns during a community meeting in Farragut High School Commons Tuesday night, Nov. 19. Mitchell said the closing of Virtue Road would coincide with work along Concord Road, creating an undue traffic burden in his subdivision.

Road construction, school concerns and building projects led talks between Knox County and Farragut elected officials and more than 40 constituents at a community meeting held in Farragut High School Commons Tuesday, Nov. 19.

Citizen feedback

As contractors continue to work on the Concord Road Widening Project, under the supervision of Tennessee Department of Transportation, Farragut resident Mike Mitchell expressed his concerns regarding Town of Farragut's plan to close Virtue Road for upgrade.

He anticipates the closing will coincide with work on Concord Road and stressed that could mean more people detouring through Kings Gate subdivision and infringing on those residents. Mitchell urged Town officials to reconsider the closing of Virtue Road during the Concord Road construction.

Farragut Primary School teacher Melinda Webster asked Town officials to consider building a community pool.

Farragut Vice Mayor Louise Povlin warned, however, purchasing such an amenity would probably require a property tax.

A Farragut Intermediate School guidance counselor urged the officials to reconsider the current counselor-student ratio, expressing a need for more guidance counselors in the schools.

Intersection developments

A plus for the Town, Povlin said, is the development of the former Phillips 66 convenience store location on the corner of Kingston Pike and North Campbell Station Road.

"I took a picture (of the demolition). I almost cried," said Povlin, who presided over the meeting with with Susan Horn, chair of Knox County Board of Education representing the 5th District (including Farragut) and 5th District Knox County Commissioner John Schoonmaker.

"The dead carcass is gone."

However, "We're going to get a nice asset for this Town … It's going to be a novel idea of food trucks coming in, and hopefully some type of beer garden thing," she said.

Across the street at Campbell Station Inn, Povlin said the Town finally is "pushing dirt on our plaza. That will be a very usable space.

"We're also seeing (improvements) to Ingles. Oh, my goodness, is that not wonderful?," she added.

"A lot of wonderful things are happening in Town, in part because the economy is doing so well."

County roads near Farragut

Schoonmaker addressed road projects in southwest Knox County, which include Canton Hollow Road across from Costco, which is scheduled to begin in June 2020.

"It's a $7 million project," he said. "Some of you may be aware that seven years ago, that was rated the worst road in Knox County based on traffic accidents.

"So, county officials determined they needed to fix that 2-mile stretch of the road," Schoonmaker added.

"We've had to wait for three budget cycles to be able to appropriate enough money to do this project. It will take about a year-and-a-half to complete."

Commissioners also are looking at completing smaller safety-related projects, such as filling a drainage ditch at the Concord Road-Northshore Drive roundabout.

"The next thing we're going to do is a turn lane into The Cove at Concord Park," he said.

Teachers' raise, new school

On the education front, Horn said the county is providing a 4 percent raise to its teachers this school year.

"That's the largest single percentage raise that we've been able to do in over 10 years," Horn said. "We were really happy to be able to accomplish that."

Also, as part of the five-year capital plan put in place last year, the county plans to build a new school, Northwest Elementary, which could help alleviate population issues in six to eight schools, including Hardin Valley Elementary, which is overcrowded.

"Currently, we are looking for property … that school wouldn't open until 2022," Horn said. "We'll have to do rezoning in those areas. (Northwest) will pool from several elementary schools.

Praise for new center

On another note, Schoonmaker and Povlin praised the partnership between the Town and County to make possible the Farragut Community Center/West Knox County Senior Center.

"It's been one of those deals where partnership with the Town of Farragut and Knox County adds a great something to the community that's going to be cherished for years to come," Schoonmaker said. "They did a fantastic job," adding the target date to open is Jan. 16, 2020.

Povlin said she has been advocating for a community center for a long time. "We're working through what the spaces are going to be used for and trying to work through some of the policy documents," she said.

Also attending were Farragut Mayor Ron Williams, Aldermen Ron Pinchok and Scott Meyer and Town administrator David Smoak.