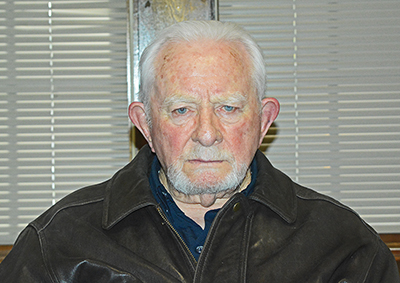 Sam Taylor

Preparing to go through a third major renovation on his family popular business on the extreme western end of Farragut, Sam Taylor might be expected to share bad memories of his dealings with Town leaders over the years — given Farragut's stereotype of "unfriendly to businesses and developers."

However, this patriarch of Dixie Lee Wines & Liquors, Inc. didn't have any to share.

Instead, "I think Farragut is a wonderful place to live," said Taylor, a retired chief financial officer/accountant with a large drug company, which led to his co-ownership of Dixie Lee W & L beginning in July 1988.
Foundations: 40 Years of Farragut
Blount County native Sam Taylor, who brought his family into the wine and liquor business in July 1988, has seen Dixie Lee Wines & Liquors, Inc. expand into a true family business during more than 30 years. While wife, Linda Taylor, became his co-owner in 2000, they have stepped aside — Linda most recently in 2018 — to let three of their four children claim ownership. Co-owner Sam Taylor III (actually referred to as Sam "Junior"), who has been with DLWL as a purchaser since 2002, will be retiring early in 2020. Co-owner Ellen Taylor Jones, who also takes care of financial/office matters, "started just after Sam Junior," said youngest sibling, Andy Taylor, a former attorney and co-owner who also has been a purchaser with DLWL since coming on board in 2013. Melanie Taylor Brown worked at DLWL "for more than 10 years," Andy said, before leaving the business. A third generation is contributing. Andrew Forton, Melanie's son, currently is a University of Tennessee student who works part-time as a clerk at DLWL. Renovation history With the DLWL building owned by the Mose Waller family, its current location was opened on Labor Day 1991, Andy said. The business was relocated a few hundred feet east. "The old building, that building used to sit basically in the middle of where Watt Road extension is now," he added. A 3,000-square foot east wing expansion, to keep up with the "revamped beer laws," came in 2015 according to Andy, resulted in "adding a massive beer cave and testing room, and office and bathroom" that year, he said. Expected to begin sometime early next year will be yet another renovation, according to Andy. "Basically, what (the Town) is going to do is close the west entrance of our business off, which is the one right next to Little Joe's (Pizza)," he added. "… We're going to have a road that is going to literally wrap around the back of the building and it's going to open up on the north side of Watt Road and really, I think, make it easier for people, ultimately, to get in and out." This weeks Foundations: 40 Years of Farragut podcast is presented by .
"They're a little bit tough sometimes on things we might think are trivial. But they aren't trivial when you put it all in one big ball so to speak," added Taylor, who has transferred co-ownership to his children — with his wife, Linda Taylor, having been co-owner from 2000 to 2018 — at the 13044 Kingston Pike store. "That just makes a better community.

"We have good schools here, good streets, sidewalks — and I find that people in Town Hall are very nice and helpful when you need them to be.

"I wouldn't live anywhere else."

Of family, Town revenues

The Taylors have made DLWL a true Farragut family business since early in the new millennium.

The youngest of Sam and Linda's four children — all of whom are working, or have worked, in the business — Andy Taylor shares what he said "doesn't get talked about enough with respect to our store and Campbell Station (Wine & Spirits)" concerning Town of Farragut revenues.

"In the liquor business before a single bottle is ever sold, every bottle that is purchased from a distributor is taxed at a 5-percent tax rate. That money doesn't simply go generally to the state — that goes directly to the Town of Farragut," said Andy, a former attorney and DLWL co-owner who also has been a purchaser with business since coming on board in 2013.

"That's a huge, huge revenue source for them because this is before we even pay sales tax," he added. "There is no other business enterprise that I am aware of that has that occur.

"That's a compelling reason to 'Shop Farragut'" in terms of wine and liquor purchases within Town limits.

Sam's new venture

Sam, a Blount County native, tells the story of how his original profession, as chief financial officer (accountant duties included) with Albers Drug Company for decades, led to his partnership in DLWL.

"Carl Montgomery, my original (Dixie Lee W & L) partner, he and I both went to St. John Neumann Catholic Church," said Sam, who later became president of a subsidiary company of Albers before retiring from that side of his professional career in 1999.

"We both knew each other quite well; we both lived in Village Green (the Taylors since the late 1960's and we were neighbors," he added.

With Montgomery already a part owner of what is now Dixie Lee W & L "with some girls," Sam said, "He called me one night and asked me if I could do an analysis on their financial statements and tell him what his share was worth."

Looking at the business' financial statement, "I looked at it and I said, 'this is a cash cow,'" Sam said.

Knowing Montgomery's partnership with "the girls" likely was coming to an end, "… I said, 'Carl, what about if you and I buy this?'" he added.

Having "played tennis every week with the owner of a bank, and I also played tennis with his president," Sam put Montgomery's concerns aside about money to purchase Sam's share.

Getting the loan, "We decided we'd be partners," he said.

Specific duties

Estimating they had "six or seven" employees when Sam started out at DLWL, "Carl managed the everyday operation of the store … the hands-on management," he said. "One thing I made sure of: we had our responsibilities separated."

Including ownership, DLWL currently has 10 employees,

Andy said.

In the early years, "The biggest challenge was I had to do my (DLWL) work mainly on weekends because I was busy through the week with my (drug company) job," Taylor said.

However, "We were very successful," he added.

Partners with Montgomery for more than 10 years, Sam's first partner sold his share and "retired to Florida."

Store history

Tracing back the beginning of Dixie Lee Wines & Liquors, Inc. to "at least 1986" according to Andy, the original owner of the first DLWL "lived in Village Green, and he's an engineer by profession," Sam said without he or Andy being able to remember the owner's name. "This was just an investment for him. And he got transferred to Atlanta on his job, so he had good reason to get rid of it."