At FHS Poetry Out Loud competition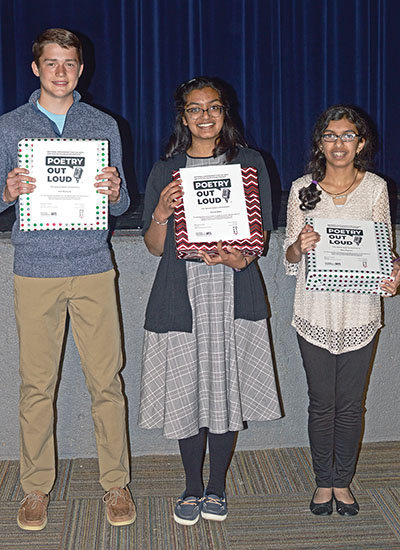 Winners of Farragut High School's Poetry Out Loud school-wide competition, which took place in Vickie B. Wells Auditorium at FHS Tuesday, Nov. 19, were, from left, Jack Bukovitz, first runner-up; Varsha Babu, champion; and Sana Boghani, second runner-up.

Five Farragut High School students braved standing before judges to recite their favorite poems in a Poetry Out Loud schoolwide competition in the school's Vickie B. Wells Auditorium Tuesday, Nov. 19.

James Gray Parker, Jack Bukovitz, Varsha Babu, Caylan Sholem and Sana Boghani each read poems in two rounds with Babu, a senior, emerging as the champion and winning $100 cash and an all-expense-paid trip to Nashville to advance to the state finals in the spring.

"It's really incredible," said Babu, the daughter of Anuradha and Soresh Babu. "It's such an honor to represent Farragut High School in the state competition — but it's also scary.

"It's rather surprising (to win)," she added. "Everyone is so talented here."

Babu's poetry selections were ''Harp Song of the Dane Woman'' by Rudyard Kipling and "God's Secretary" by R.S. Gwynn.

Close behind her were Bukovitz, who won first runner-up, $75 cash and will compete in the state competition if Babu is unable to attend, and Boghani, who won second runner-up and a gift certificate. Bukovitz recited "Always Something More Beautiful" by Stephen Dunn and "Fishing" by A.E. Stallings.

Boghani recited "Love Lives Beyond the Tomb" by John Clare and "Famous" by Naomi Shihab Nye.

Parker recited "All Hallows Eve" by Dorothea Tanning and "300 Goats" by Naomi Shihab Nye, and Sholem recited "Acquainted with the Night" by Robert Frost and "The Days Gone By," also by Frost.

FHS Education Foundation provided monetary prizes to the winners, and Faith Promise Church also contributed to the competition. Officials included emcees Alex Forrest and Will Stevens; prompter Erin Ashe; tabulator Angela Buckman and judges Katie Beckett, Valarie Cagle, Laicee Hatfield, Dillon Lambert and Ted Ross.

"Poetry has the power to help us make meaning out of things we feel and believe," event coordinator Cedelle Niles said.

"In 2005, the National Endowment for the Arts and the Poetry Foundation joined together to create Poetry Out Loud, a program that encourages the nation's high school to learn about poetry through exploration, memorization and recitation," school librarian Holly Matthews said.

"... Since the program began in 2005, more than 3.8 million students and 60,000 teachers from 16,000 schools across the country have participated in Poetry Out Loud," she added.

"Poetry Out Loud begins at the classroom level, where students select ... more than 900 classic and contemporary poems," Niles said.

Students who win the state competition earn $1,000 and an all-expense-paid trip to the National Finals at George Washington University in Washington, D.C., according to Niles. Meanwhile the winner's school will receive $500 for purchase of poetry books.