Defense, 3-point shooting allow FHS girls to surge past Jeff Co., win tourney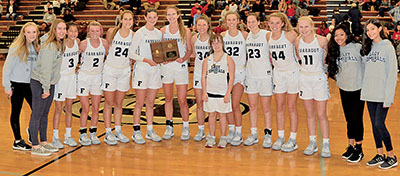 Jason Mayfield's Farragut Lady Admirals with their Reeder Chevrolet Farragut Thanksgiving Tournament championship plaque.

Struggling to crack Jefferson County's zone defense, Farragut saw the visiting Lady Patriots grab an eight-point second quarter lead and take a 19-14 advantage into halftime of this Reeder Chevrolet Farragut Thanksgiving Tournament title game in FHS's Lynn E. Sexton Gymnasium.

But intensifying its own defensive pressure after halftime, plus some hot three-point shooting, allowed the Lady Ads to take control and win the tourney title 42-33 Saturday night, Nov. 30.

Junior guard Macy Barnes scored a team-leading 12 points, all on three-point jumpers, helping keep Farragut unbeaten at 6-0.

"I knew I had to provide for my team. And that's what I do, I shoot," said Barnes, whose 16 points led the way in a 55-40 win against Fulton in opening round tourney play Monday, Nov. 25.

"Macy obviously shot the ball well," FHS head coach Jason Mayfield said.

Sophomore guards were next in the scoring column. Keeleigh Rogers tossed in seven of her nine points after the break. Avery Strickland added eight.

"We got a little more comfortable with their zone ... but we are having an issue right now getting some inside looks," Mayfield said. "Our assistant coaches had some good suggestions on adjustments we made."

Holding Jeff County to five points in the third quarter, "If we play defense and get stops we're really a good transition team," said Claire Wyatt, FHS senior wing who scored seven in the title game, but led her team with 22 points in a 79-50 semifinal tourney win against Campbell County Friday, Nov. 29.

Ashlyn Sheridan, sophomore guard, scored her four points Saturday in the final quarter. McCall Willis, sophomore post, had two.

Though not scoring, senior point guard Madison Hodge was "running the show well," Mayfield said.