New ground broken: Stallings a Coldwell Banker Wallace-Wallace partner with bros.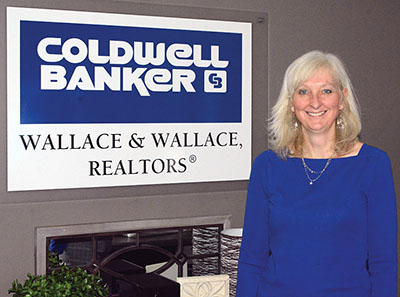 Claudia Stallings, new partner with Coldwell Banker Wallace & Wallace, Realtors, started with the company as an agent in 2004 after having her interest in real estate piqued by helping her parents find a home in Farragut in 2002.

Not one who specializes in the "hard sell" by her own admission, Claudia Stallings' new career direction was sparked by trying to help her parents, Paul and Phylis Garrison.

"I started thinking I might be interested in real estate when my parents decided to move to Farragut in 2002," said Stallings, recently named Coldwell Banker Wallace & Wallace, Realtors' first female partner since the 1940s — and first partner outside the Wallace family — for a company started in 1936 by James A Wallace Sr. and his son, Charles A. Wallace.

"I started looking for houses for them. I found I thoroughly enjoyed the process," added Stallings, who obtained her real estate license then was hired as a CBWW agent out of the Farragut office, 10815 Kingston Pike, in 2004. She was elevated to principal broker in 2010.

Vice president of residential sales since 2016, Stallings now oversees CBWW "residential efforts."

Her partnership became official during a ceremony in corporate headquarters in Bearden Wednesday, Nov. 20. "To know that I am trusted to protect the reputation that the Wallace family has created and maintained for 83 years is very humbling," Stallings said.

"CBWW is known for its reputation of integrity and professionalism," she added. "I am proud to represent a company that insists on doing business in this way, even when those actions are sometimes more difficult to accomplish."

"What makes Claudia unique is her ability to nurture relationships with clients and colleagues alike," said George Wallace, long-time CBWW partner with brother, Jim Wallace. "She generates ideas and initiatives, challenging the status quo in thought and action to yield better results."

Agent, principal broker

Among all CBWW agents in six Knox County offices, now totaling about 360, "The highest I ever ranked in the company was No. 7 in 2007," Stallings said.

As principal broker, "I grew it to about 80 agents," she said. "In the middle of 2015 I kind of started, part-time, helping the brokers in the other offices."

About Jeanne Bird, principal broker before Stallings took that job, the new partner said, "She taught me everything I know."

Background

Saying she comes "from a marketing background" that included work in advertising sales at the Nashville Business Jounral, in her hometown, and as promotions manager for the Nashville PBS station, Stallings and husband, Mike Stallings, moved to Farragut in 1999.

That was eight years after she graduated from the University of Tennessee, Knoxville, in 1991 with a Bachelor of Science degree in Communications "with an advertising focus."

Partner training

Training to become a partner "is something we've been working on for a while," Stallings said.

With the blessing of CBWW co-owners/brothers Jim Wallace and George Wallace, her partner apprenticeship started in 2015 when "I started on a part-time basis working with all the offices," she said. "In 2016 I started doing that full-time."

Along the way, "I took a class at Realogy, which is Coldwell Banker's parent company in New Jersey," Stallings said about the year-long class featuring "semesters" on finance and other subjects. "We'd go to New Jersey four times a year (in 2017)."

Realogy ended in January 2018 "when we all presented our case studies," added Stallings, whose duties also include "teaching a class that provides other agents with continuing education."

Background

Originally from Nashville, Stallings and husband, Mike Stallings, moved back to the Music City, where she started work at the Nashville Business Journal "in advertising sales."

She moved on to the Nashville PBS station in 1995 as "promotions manager. … and I was in charge of the monthly magazine."

Also writing a monthly real estate newspaper column, Stallings and Michael moved to Farragut in 1999.

"My husband was offered a job at HGTV as a music composer," she said.

As for her own career, "My boys were small, and we chose the area due to the schools and reputation and all that," Stallings said, adding she focused on being a mother and only worked part-time — at an advertising agency.