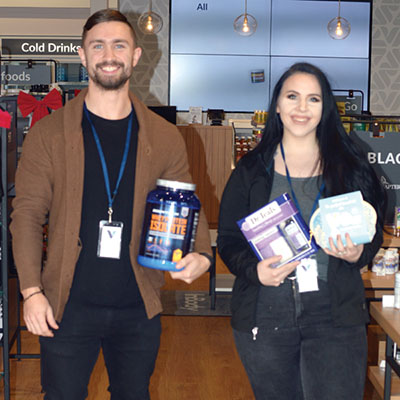 Jordan Randolph, keyholder/supervisor, and Arianna Moore, assistant manager, welcome the community to The Vitamin Shoppe's new location, 10950 Parkside Drive, which opened Friday, Nov. 22.

The Vitamin Shoppe has made Turkey Creek home in a new location.

The store, which is part of The Vitamin Shoppe national chain, opened Friday, Nov. 22, at 10950 Parkside Drive just past Starbucks — but plans to have a grand opening from 9 a.m. to 9 p.m., Wednesday, Jan. 15.

"We're a specialty retailer for vitamins, sport supplements and natural beauty products," TVS assistant store manager Arianna Moore said.

Jordan Randolph, keyholder/supervisor, noted The Vitamin Shoppe is "the only one like it in the country."

"We're actually the first store that was created within the past two years of the company to be modeled to look like this," Moore said, adding the Turkey Creek store design is brand new.

"I think our knowledge on the products allows people to really understand the supplements and vitamins that they're purchasing," she also added. "We offer an array of different brands

"We really have that one-on-one interaction with each customer who comes in. We can help them with their optimal lifestyles."

Randolph said customers could acquire "tools to be their optimal selves — or the healthiest, happiest versions of themselves."

"There's not many (TVS) locations in Tennessee," Moore added. "The only one around here would be the original Knoxville (store, at 7833 Kingston Pike)."

Offering a "buy online, pick-up in-store" service, TVS is open from 9 a.m. to 9 p.m., Monday through Saturday, and from 11 a.m. to 6 p.m. Sunday. Shopping also can be done at thevitaminshoppe.com/, where a subscription-based delivery program allows customers to get their products shipped on a monthly or reoccurring basis.