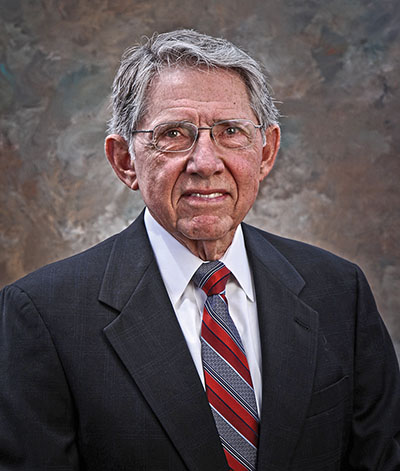 Joel Garber

Doing what he felt was in the best interest of the Town of Farragut while serving as a North Ward alderman for 12 years (1995-200), Joel Garber reluctantly would be willing to disappoint, even anger, a majority of his constituents.

Though obviously wanting to satisfy as much of his constituency as possible when casting a vote or voicing an opinion, Garber said, "If there ever was a case where I didn't agree with what my constituency wanted, I think they voted for me to use my judgment.

"I felt strongly about that."

For example, "How many constituency groups will ever want you to raise taxes?" he asked. "So, what if there is a time where — 'we hate to do it guys' — we need to raise taxes?

"The downside of that is you may not get elected, which is fine," Garber added.

But this now-retired engineer from Oak Ridge National Laboratory chose to leave office, as opposed to being voted out, after his 12 years — beginning his Town service on the Farragut Municipal Planning Commission for two years (1993-95).
Foundations: 40 Years of Farragut
Having never run for elected office before his bid to become a North Ward alderman for Town of Farragut in 1995, Joel Garber detailed his campaign process. "Let me tell you, it's a lot of work," said Garber, a retired engineer at Oak Ridge National Laboratory who moved to Village Green in 1967, after being elected to three four-year terms (1995-2007) before stepping aside. "And it's an humbling process for you to be brought before your fellow citizens and ask them to put their confidence in you and ask them for their vote," he added. "You're asking for something pretty important." Moreover, "I was a little squeamish about putting my name in someone's yard," he added. "But my advisors said, 'you have to do that,' and I said, 'OK.'" Specifically, Garber recalls campaign help from then Farragut Mayor Eddy Ford, who appointed Garber to Farragut Municipal Planning Commission upon first being elected mayor in 1993. Serving two years on FMPC, Garber said he also got campaign help from "Steve Maynard, Mike Ragsdale (former Knox County mayor) and my wife (Sandy Garber) and Claudia Ragsdale. "… It's an honor to be chosen to represent your neighbors, so I felt good about that," he added. As an alderman, "You have to listen to a lot of people" to be effective, he said. A Johnson City native, Garber's first 21 years in what is now Farragut were spent in Village Green before he and Sandy moved to Fox Den in 1988. The Garbers have two children, two grandchildren and two great-grandchildren. This weeks Foundations: 40 Years of Farragut podcast is presented by Concord Christian School
Motivation to run

Appointed by then Mayor Eddy Ford (serving from 1993 to 2009) to FMPC, Garber ran for alderman in 1995 "because Eddy Ford asked me to," Garber said. "Eddy called me and said he needed a candidate for alderman and recommended I give it some thought.

"I said, 'Yes, I'd be happy to do that.'"

Moreover, "Eddy told me (being an) alderman was less work than (being on) FMPC, and he was right," Garber added.

As for being better prepared to become an alderman based on his two years of FMPC service, Garber said, "I more-or-less learned how the Town of Farragut operates."

Parks

"Our planning, development and management of parks is a phenomenal thing," he said. "… Our parks are magnificent, and they're such a big benefit for everybody, not just Farragut people."

Another point of pride during Garber's 12 years was "the purchase and inclusion of art statues in our parks," he said. "We took some very nice trips to the National League of Cities conventions in a lot of big cities: Los Angeles, Philadelphia, Atlanta, Indianapolis. … I noticed the cities had some really nice statues.

"So I came back with the idea of trying to convince the city that we need to do what we can to bring that kind of art to our parks," Garber added. "So we asked the Arts Council to do some research on what kind of statues we'd like to put in our parks."

About the "statues of young children playing" located in Founders Park at Campbell Station, "We've had lots and lots of compliments on that," he said.

Roads

As for roads, "We had to develop a road plan: which roads do we want to upgrade in the future" as a priority? Garber said.

Going back before incorporation, "My earliest remembrance … Campbell Station Road was rebuilt at least twice within five to 10 years. Once to just say you could get from one place to another," he said.

After incorporation, "The second time with wider (lanes) to better handle traffic like it's handling today," Garber added.

Olson, Haynes

Garber recalls then Town administrator Dan Olson "was a very good financial planner and budgeter, and he's the one that made it all happen."

About the Board's dynamics, Garber said then Vice Mayor Mike Haynes "was a wonderful alderman. He's an attorney. Very much in tune with making Farragut a better Town. Worked hard.

"He was just a solid person that you could count on," he added.

LCUB-Farragut

Garber has represented Farragut on the Lenoir City Utilities Board of Directors, now in his third term, dating back to 2006.

"LCUB is very, very important to the Town of Farragut, and the Town of Farragut is very, very important to LCUB," Garber said. "A large part of electrical revenue for LCUB comes from Knox County, like 60 to 80 percent.

"LCUB will listen to Farragut's problems, and Farragut will listen to LCUB's problems," he added.

Looking back

After almost 40 years, "I'm very proud of the Town and what they've done," he said. "... It's been a privilege to serve the Town of Farragut. I hope I did well in my terms, and I appreciate the confidence people had in me to elect me for three terms," Garber said.

Looking ahead

"I just hope they continue to take a conservative approach," Garber said about Town leaders' fiscal approach, concerned about "additional capital that we have to maintain. I hope they minimize that because we've got so many facilities around with our schools and churches."