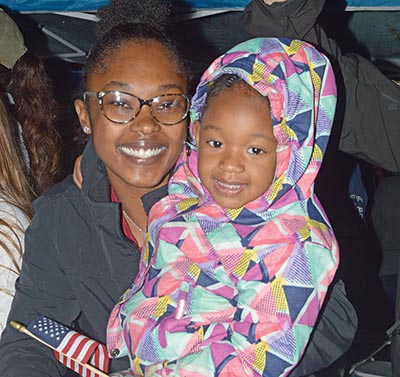 Daishyra Mobley with daughter, Christianna

Hundreds of families turned out for this year's Lights Up! Tree Lighting at The Pinnacle at Turkey Creek, despite some light drizzle, Friday night, Nov. 22, to herald in the holidays.

A chat with Santa, a Mercedes Benz parade, vendors' booths, a ride on the Smoky Mountain Express, playing of "Taps" provided by East Tennessee Veterans Honor Guard, food trucks and performers rounded out the event's activities, which included the headliner — the lighting of the tree by Santa, TV news anchor Ted Hall and Nancy Reeder, a senior with Home Instead. Entertainment included dancers from Angela Floyd Dance Company, "Faith Alive Band" from Faith Lutheran Church, Cedar Bluff Middle School, K-Town Clogging Company and Holston Middle School Show Choir.

For more photos from this event, please see Westside Faces in our print edition.