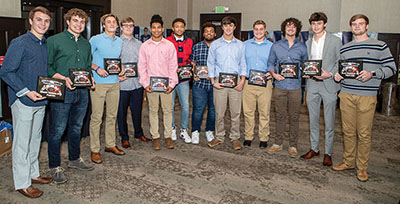 Farragut High School football All-Region 1-6A honorees were recognized during the team's banquet Sunday evening, Dec. 8. Highlighting the honors was junior defensive end Eli Purcell, second from left, named Region Defensive Player of the Year. Other honorees, from left, are Brady Hodges, punter, junior: Logan Foody, defensive back, junior; Colin Ross, Scholar Athlete, senior; Trey Nesbitt, defensive end, junior; Jackson Fontenot, defensive back/wide receiver, senior; A'koiyea Johnson, offensive lineman, senior; Dawson Brown, defensive end, junior; Carter Schuermann, offensive lineman, junior; and seniors Hunter Shopovick, wide receiver, Gavin Wilkinson, quarterback, and Alec Keathley, tight end/linebacker.

Farragut, Hardin Valley Academy and Bearden combined for 31 representatives on the All-Region 1-6A Football Team for 2019 — led by 12 Admirals honorees (see photo).

Kelton Gunn, HVA senior running back, was named Offensive Player of the Year. Other Hawks honorees were Braden Schloff, Cam York, Casey Brown, Declan Brophy, Jaylen Moore, Luke Filipkowski, Michael Spurgeon and Scholar Athlete Jacob Smith.

Hayden Candela, BHS senior receiver/defensive back, was named Athlete of the Year. Other Bulldogs honorees were Collin Ironside, Makai Williams, Kenneth Parker-Smith, Christian Spining, Jackson Biggs, Ty Serrit, Reed Frederick, Gavin Campbell, James Milazzo and Scholar Athlete Seth Arana.